SAA's flag bearers stood-out in AGRF
September.18.2019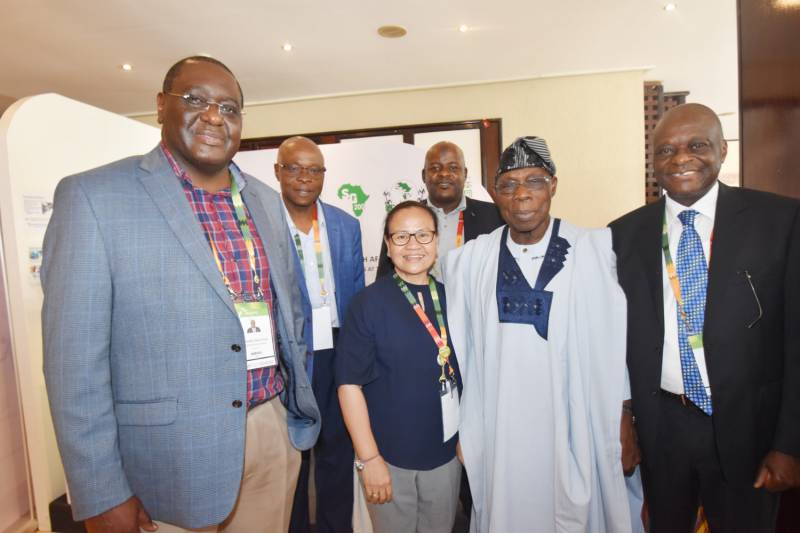 H.E Olusegun Mathew Okikiola Aremu Obasanjo, former President of Nigeria graced SAA's booth. He was received by Dr. Deola Naibakelao, Dr. Mel Oluoch and Engineer Halos-Kim
1 of 2
The beautiful city of Accra has been bustling to receive guests who flocked from all corners of the globe to attend the 2019 African Green Revolution Forum (AGRF) held at the Accra International Convention Center (AICC) from 2-6 September 2019. The AGRF 2018 forum was successfully hosted in Kigali, Rwanda and this year, Accra, Ghana was the host to this prestigious continental event which attracted key actors in agriculture, heads of states, researchers, producers, promoters, the media community etc.

First established in 2010, following a three-year series of African Green Revolution Conferences (AGRC) held in Oslo, Norway from 2006-2008, the AGRF has emerged as Africa's leading "platform of agriculture platforms" that brings together a range of critical stakeholders in the African agriculture landscape to discuss and commit to programs, investments, and policies that can counter the major challenges affecting the agriculture sector on the continent.

Sasakawa Africa Association (SAA) showcased its successes, challenges, and lessons learned in its engagement with smallholder farmers of Africa for over 30 years. An exhibition booth set up at a strategic location next to the main session hall of AICC brought a lot of attention towards exhibits lined up for display. Delegates of SAA from regional, country and headquarter offices explained what SAA does and its activities in the Agricultural Extension.

Besides posters and product exhibits, the SAA booth also served as a platform for the management to hold bilateral discussions with government officials and other organizations. Among the high profile visitors to the SAA booth were: H.E. Said Hussein Lid, Minister of Agriculture and Irrigation of the Federal Republic of Somalia who requested SAA's assistance in human resource development; Hon. Kibanzanga M.T. Christopher, Minister of State for Agriculture, Animal Industry and Fisheries of the Republic of Uganda; H.E. Louise Ilunga Mueleshi, Minister of Agriculture and Rural Development of the Democratic Republic of Congo; H.E. Olusegun Obasanjo, former President of the Federal Republic of Nigeria and former Member of SAA Board; and Dr. Naoko Ishii, CEO of Global Environment Facility (GEF) -World Band Group. Other government officials, partners from development organizations, researchers, professors, investors, processors and farmers also graced SAA's exhibition booth, exchanged information and embarked in discussions with our staff on never-ending topics such as seeds, fertilizers, machines, value addition, nutrition, partnerships. Among comments made by visitors, one enlightened farmer group leader commented and wrote "just what we needed, works directly with farmers". Another visitor added "SAA is an innovative program, adding value to rural communities!"

The booth also featured a farmer-processor, Mr. Robert Koomson, member of Krofu Agro-processors Association in the Central Region of Ghana. His group produces and sells different cassava products (flour, gari, and gari mixed with orange flesh potato & soybeans) by adopting SAA's value addition techniques. He is no stranger to SAA. He works closely with Supervised Enterprise Projects (SEPs) students trained in agricultural extension, thanks to the long partnership between Sasakawa Africa Fund for Extension Education (SAFE) and the University of Cape Coast (UCC). Along with SAA's postharvest machine models, a budding young machine designer/fabricator from Ghana also displayed a prototype multi-crop thresher designed by SAYe Tech; an organization which designs and builds smart agricultural machinery suited for the African conditions. They met many potential customers and partners.

SAA in partnership with Ghana Broadcasting Corporation (GBC) documented the event and released news coverage on its prime-time program in three-part series. The programs featured SAA thematic program areas and its contributions to improving agricultural productivity in the challenging environment which exists in Africa. Major activities in the booth were instantly shared on SAA online platforms: Twitter, Facebook and Instagram which maintained SAA's visibility.




SAA Publications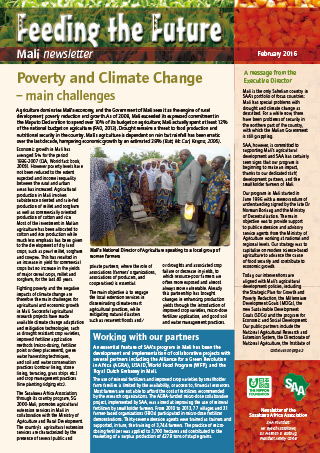 Electronic versions of Feeding the Future are available here.
To be kept informed of Feeding the Future updates and news via e-mail or to order printed copies, please use our contact form here.