This page is currently being updated ahead of the launch of SAA's new Strategic Plan (2021-2025).
Five-pronged Approach to Agricultural Value-chain
The SAA has created a positive impact through its efforts to improve the effectiveness of national agricultural extension systems to provide smallholder farmers with a range of appropriate technological options and knowledge along agricultural value-chain. It has been achieved by building capacity and creating stronger links between research and extension and then to farmers and farmer-based organizations (FBOs). In order to meet their diverse needs, the SAA implements a value-chain extension approach through its five thematic areas as described below.
Contents
The theme promotes productivity-enhancing technologies including fertilizer, improved varieties, climate smart production technologies and other good agricultural practices.
The theme promotes value-adding technologies in the areas of postharvest handling, storages and agro-processing.
The theme supports imporved access for input (improved seeds and fertilizer) and creating linkages for output market for farming commnunities.
The theme partners with universities to develop specialized curriculum for mid-career extension agents to develop their capacities.
The theme aims to implement effective monitoring and evaluation system to assess impact of the programs and learn from experiences.
SAA Publications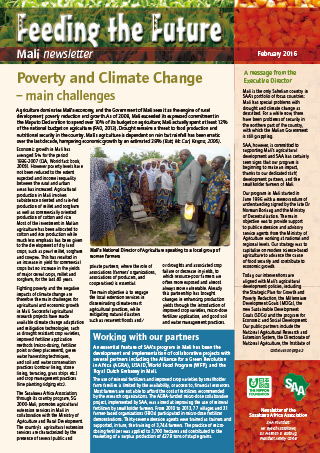 Electronic versions of Feeding the Future are available here.
To be kept informed of Feeding the Future updates and news via e-mail or to order printed copies, please use our contact form here.