SG-2000 Nigeria Celebrate 30 Years of SAA, Bring Together Stakeholders
April.26.2017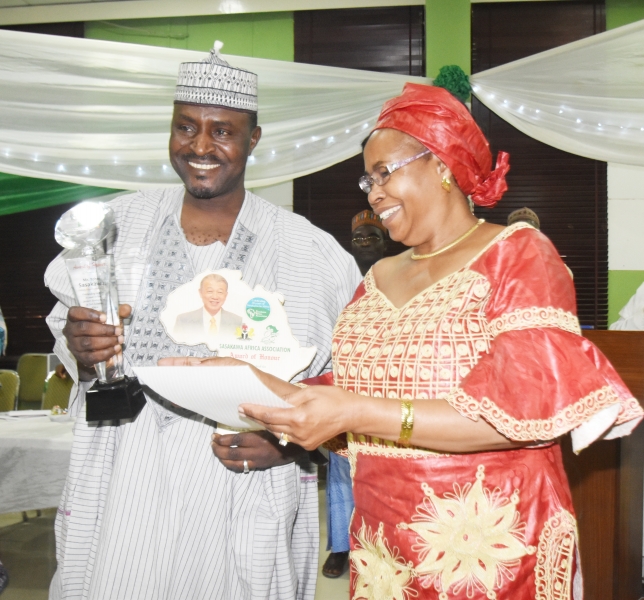 SAA Managing Director Dr. Juliana Rwelamira receiving the award on behalf of the Nippon Foundation Chairman, Mr. Yohei Sasakawa from the hands of SG-2000 Nigeria Country Director Prof. Sani Miko
1 of 1
SG-2000 Nigeria celebrated SAA`s 30th anniversary in Africa and 25 years in Nigeria, alongside holding the 2017 Stakeholders National Annual Review and Planning Meeting at the National Agricultural Extension and Research Liaison Services (NAERLS) conference hall in the premises of Ahmadu Bello University (ABU) Zaria from the 22nd – 23rd of February.
On the occasion of the 30th anniversary of SAA in Africa and the 25th in Nigeria, SG-2000 Nigeria conferred special recognitions and honored distinguished individuals who have left indelible legacy in the organization`s history, and those who continue to leave their marks. Among the most notable recipients (through their representatives) of these awards and recognition were retired Gen. and former president of the Federal Republic of Nigeria Chief Olusegun Obasanjo, for bringing SAA to Nigeria; Mr. Yohei Sasakawa, president of the Nippon Foundation, Japan, for his outstanding support to smallholder farmers` development in Sub-Saharan Africa; Minister of the Federal Ministry of Agriculture and Rural Development (FMARD) of Nigeria, Chief Audu Ogbeh and Rear Admiral Murtala Nyako, former Adamawa state governor, in recognition of their support towards SAA`s achievement in Nigeria; the Emir of Dutse, Jigawa State and Emir of Billiri in Gombe state.

Other honorees of the occasion included Dr. Jose Antonio Valencia, first Country Director of SG-2000 Nigeria for his pioneering works; Prof. Ahmed Falaki (posthumous), former Country Director / National Adviser in recognition of his tireless efforts for giving Sasakawa a national face in Nigeria; Chris Doswell (Posthumous), former Executive Director of SAA in recognition of his outstanding effort in the transformation of SG-2000 to the modern day SAA; current Senior Executive Officer of SAA/SAFE, Mr. Masaaki Miyamoto, and Dr. Juliana Rwelamira, SAA Managing Director for their visionary guidance and leadership; and Sasakawa Africa Fund for Extension Education (SAFE) Managing Director Dr. Deola Naibakelao in recognition of championing the establishment of SAFE program in Nigeria. Awards and recognition also went to partners, best extension agents, best farmers from each Federal state SG-2000 is present, best farmer groups, farmer groups with special needs, and longest serving SG-2000 Nigeria staffs. Federal states and institutions have also been recognized and awarded for their support and partnerships.
Opening the Stakeholders National Annual Review and Planning Meeting, session chairman Prof. A.B. Mans welcomed everyone to ABU on behalf of the University`s Vice-Chancellor Prof. Ibrahim Garba, and expressed his appreciation on how SAA implements its activities with relevant stakeholders.

Delivering her good will message, SAA Managing Director Dr. Juliana Rwelamira highlighted the need for all stakeholders present to contribute by understanding what transpired in the last SAA strategic plan and what should be done in the new strategic plan.
Notable speakers who delivered good will messages included Prof. Ibrahim Umar Abubakar, Executive Director of ABU`s Institute for Agricultural Research (IAR), Mr. E.A. Edache, former Nigerian Permanent Secretary of FMARD, and representatives from NAERLS, West Africa Agricultural Productivity Program (WAAPP), and International Crops Research Institute for the Semi-Arid Tropics (ICRISAT).

Dr. Hajiya Karima Babangida, Director of Gender and Youth at FMARD conveyed the keynote address representing the Permanent Secretary Dr. Shehu Ahmed. The address focused on the Memorandum of Understanding signed with SAA/SG-2000 since 1992 to improve the productivity of farmers in various value chains, and the one signed in 2013 to further scale up the productivity of smallholder farmers in some selected states of the Federal Republic of Nigeria and the major achievements recorded so far.

The genesis of Sasakawa Global 2000 dates back to 1984 when the late Japanese philanthropist Ryoichi Sasakawa became aware of the famine that hit the Horn of Africa, Ethiopia being the worst hit. At the same time, in Asia, Green Revolution was underway led by the prominent wheat scientist and the 1970 Nobel Peace Prize winner, the late Dr. Norman Ernest Borlaug. Mr. Sasakawa called Dr. Borlaug and asked him to join him combat hunger in Africa. These formidable duo then saw the support of Mr. Jimmy Carter, former President of USA whose Global 2000 health program was active at the time with different interventions in Africa. In 1986, Sasakawa Africa Association became officially registered in Geneva as an international humanitarian NGO aimed to increase agricultural productivity in Africa to rid the continent of hunger and malnutrition.

SAA Publications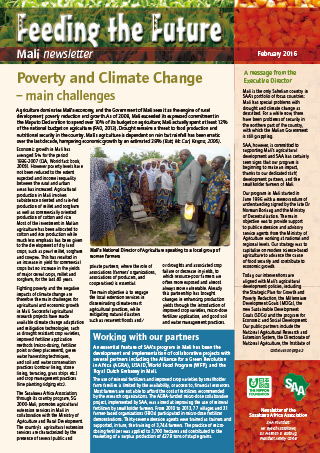 Electronic versions of Feeding the Future are available here.
To be kept informed of Feeding the Future updates and news via e-mail or to order printed copies, please use our contact form here.