Advisor to the President

Junichi Hanai (Japan) joined SAA in April 2020 and now serves as General Techinical Director of Tokyo HQ. He earned his MSc in Tropical Agriculture from Kyoto University and thereafter joined Japan International Cooperation Agency (JICA). Mr Hanai has devoted himself mainly to the Agricultural Development of Sub-Saharan African countries for the last 30 years and played a significant role in the formulation of a new cooperation framework, including the Coalition for African Rice Development (CARD) and the Enhanced Drought Resilience in the Horn of Africa. During his time as the Chief Representative of JICA's Zambia office, Mr Hanai served as chair of the donor coordination group and succeeded in facilitating the involvement of two emerging donors, China and India, into the group.
Strategic Partnership Director

Mel Oluoch (Kenya, PhD) is the Strategic Partnership Director of the SAA and is based in Addis Ababa, Ethiopia. He joined SAA on October 2018. He has a PhD in Horticulture from Virginia Polytechnic Institute and State University (Virginia Tech) in USA and has extensively published in academic journals and other publications. He has previously held senior positions at the World Vegetable Center, the International Institute of Tropical Agriculture (IITA), and HarvestPlus. He was a former Tanzania Country Coordinator for the International Center for Tropical Agriculture (CIAT) and was recently an adjunct lecturer at Nairobi University, Kenya, in the Department of Plant Science and Crop Protection. He brings to SAA a wealth of knowledge and experience in project management, capacity-building, and increasing smallholder farmers' access to inputs and new production technologies.
Country Directors

Fentahun Mengistu (Ethiopia, PhD) was appointed Country Director of SAA Ethiopia iin 2018. Dr. Fentahun earned his PhD from Boku University of Natural Resources and Life Sciences, Vienna, Austria in 2008. He served as researcher and leader in the Ethiopian Agricultural Research System for 29 years. Before he joined SAA/SG2000 Ethiopia, he was Director General of the Ethiopian Institute of Agricultural Research, from 2013 to 2017. Prior to that, he served as Director General of the Amhara Regional Agricultural Research Institute, and Director of Adet Agricultural Research Center. During July 2017 – July 2018, he had been a Senior Agronomist for Tufts University on the USAID's Agricultural Knowledge Learning Documentation and Policy (AKLDP) Project based in Addis Ababa, Ethiopia.

Sokona Dagnoko (Mali, PhD) was appointed Country Director of SAA Mali in 2017 and holds a PhD in Plant Breeding with minor in International Agriculture from Cornell University, Ithaca (New York) and a Master of Science in Animal Science from Laval University, Quebec (Canada). Dr Dagnoko has over 20 years' experience as professor of Animal Nutrition, International Research Scientist, and Lead International Agricultural Consultant. Her expertise include plant breeding and seed systems; Plant biotechnology; value-chain analysis, monitoring & evaluation, and agricultural extension. Before joining SAA in late 2016, she was the national focal point of the West Africa Seed Program, working with the public and private sectors, universities, and farmers cooperatives to develop the Malian seed industry.

Sani Miko (Nigeria, PhD) joined SAA in 2009 as Country Director of SAA Nigeria. He obtained a PhD in Irrigation Agronomy in 1999 from Ahmadu Bello University (ABU) at Zaria (Nigeria). Dr. Miko began his career in the Department of Agronomy at ABU in 1988, rising to the position of Senior Lecturer in 2000, a position he held until 2004. While there, he was involved in extension and research on cereal agronomy and water management at the Institute for Agricultural Research, Samaru. Before joining SAA, Dr. Miko was Head of the Agronomy Department and the Dean of the Faculty of Agriculture. He worked with SAA throughout his university career to help improve the effectiveness of selected SG 2000-Nigeria field programs.

Roselline Nyamutale (Uganda, PhD) joined SAA in mid-2010 as Country Director of SAA Uganda. She has 26 years of professional experience in agricultural development working with a variety of organizations, including: the Ugandan Ministry of Agriculture Animal Industry and Fisheries; the country's National Agricultural Advisory Services (NAADS); its Ministry of Finance, Planning and Economic Development; various international development agencies and foundations (IFAD, DFID, FAO, DANIDA, Winrock International and the Ford Foundation); and such NGOs as the Uganda Land Management Project (ULAMP), UWESO and FARM Africa. Ms. Nyamutale earned her MSc in Management of Agricultural Knowledge Systems from Wageningen Agricultural University in The Netherlands.
SAA Publications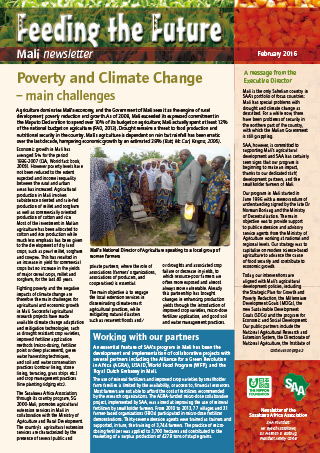 Electronic versions of Feeding the Future are available here.
To be kept informed of Feeding the Future updates and news via e-mail or to order printed copies, please use our contact form here.