Regional Director

Juliana Rwelamira (Tanzanian, PhD) is the Regional Director of the SAA with more than 35 years of experience in agricultural and agribusiness development in Sub-Saharan Africa. She earned her PhD in Agricultural Economics from the University of Pretoria, South Africa, and MSs in Agricultural Economics at the University of Florida, USA. Dr. Rwelamira has worked in senior managerial positions with the National Agricultural Marketing Council (NAMC), a statutory body based in Pretoria, which advises South Africa's Ministry of Agriculture and its agricultural industry on the marketing ofagricultural products; with ECIAfrica Consulting International, an agricultural consulting firm headquartered in USA. Formerly, she was the Deputy Director of the Post Graduate School of Agriculture and Rural Development and lecturer at the University of Pretoria.
Thematic Directors

Bidjokazo Fofana (France, PhD) was appointed as Director of Crop Productivity Enhancement in December 2015. He has been engaged in international development work for over 15 years. He earned his PhD in Agricultural Sciences at the Institute of Tropical Sciences, Justus-Liebig-University (Giessen-Germany) in 1998. From 1998-2000, he served as an Associate weed and soil Scientist at the Institutes of Agricultural Science and Environmental Protection (Giessen), and Plant Protection and Agroecology in the Tropics and Subtropics of Hohenheim (Stuttgart) in Germany. From 2000 to 2015, Dr. B. Fofana worked as Soil Fertility and Fertilizer Management Expert with the International Fertilizer Development Center in West Africa.

Leonides Halos-Kim (Philippines) is an experienced Agricultural Engineer who earned her MS in Engineering from the Asian Institute of Technology (Thailand) in 1985. She began her international career in 1980 when she joined IRRI's Agricultural Engineering Department. She joined IITA in 1991 as a Research Specialist in Agricultural and Food Processing Engineering, and served as the Head of its Post-Harvest Engineering Unit from 1999-2004. Mrs. Halos-Kim began with SAA, first as a consultant in post-harvest and agroprocessing (2005-2008), and then as a Program Officer (2009). She was appointed Director of Post-Harvest and Agro-processing in January 2010.
Deola Naibakelao (Chad, PhD) is the Deputy Regional Director of SAA and also in charge of Human Resource Development and the Sasakawa Africa Fund for Extension Education (SAFE). He earned his PhD in Rural Sociology in 1982 from the University of Lyon II (France), and joined SAA in 1991 as a Program Officer based in Ghana. In 1993, he was asked to serve as the SAA representative in Ghana for the newly established SAFE program. In 1998, he was appointed SAFE Program Director, based in Burkina Faso, and in 2002 he assumed overall leadership of SAFE, with responsibility for 14 programs in 9 countries.

Kebba N. Sima (Gambian, PhD) assumed his responsibilities as Thematic Director of Monitoring, Evaluation, Learning and Sharing in October 2015. He is a development professional by training, with a PhD from the Atlantic International University (2014) and an MARD from the University of East Anglia (2009). He has over 25 years of experience working as a development professional specializing in social research, development planning and management, policy analysis, monitoring, evaluation and reporting. He has worked for various organizations including the Start Network, ActionAid International, The Gambia Social Development Fund, Voluntary Services Overseas, Medical Research Council and The Gambia Cooperative Union.
Country Directors

Aberra Debelo (Ethiopia, PhD) was appointed Country Director of SAA Ethiopia in 2009. He served as the program's Country Coordinator since 2005 before being promoted to Country Director. Dr. Debelo earned his PhD in Crop Science (Agronomy and Breeding) at Oklahoma State University (USA) in 1992. Before joining SAA, he was the Coordinator of the Eastern and Central Africa Regional Sorghum and Millet Research Network (2003-2005), and served from 1998-2003 as the Deputy Director General of the Ethiopian Agriculture Research Organization (now known as the Ethiopian Institute of Agricultural Research).

Sokona Dagnoko (Mali, PhD) was appointed Country Director of SAA Mali in 2017 and holds a PhD in Plant Breeding with minor in International Agriculture from Cornell University, Ithaca (New York) and a Master of Science in Animal Science from Laval University, Quebec (Canada). Dr Dagnoko has over 20 years' experience as professor of Animal Nutrition, International Research Scientist, and Lead International Agricultural Consultant. Her expertise include plant breeding and seed systems; Plant biotechnology; value-chain analysis, monitoring & evaluation, and agricultural extension. Before joining SAA in late 2016, she was the national focal point of the West Africa Seed Program, working with the public and private sectors, universities, and farmers cooperatives to develop the Malian seed industry.

Sani Miko (Nigeria, PhD) joined SAA in 2009 as Country Director of SAA Nigeria. He obtained a PhD in Irrigation Agronomy in 1999 from Ahmadu Bello University (ABU) at Zaria (Nigeria). Dr. Miko began his career in the Department of Agronomy at ABU in 1988, rising to the position of Senior Lecturer in 2000, a position he held until 2004. While there, he was involved in extension and research on cereal agronomy and water management at the Institute for Agricultural Research, Samaru. Before joining SAA, Dr. Miko was Head of the Agronomy Department and the Dean of the Faculty of Agriculture. He worked with SAA throughout his university career to help improve the effectiveness of selected SG 2000-Nigeria field programs.

Roselline Nyamutale (Uganda, PhD) joined SAA in mid-2010 as Country Director of SAA Uganda. She has 26 years of professional experience in agricultural development working with a variety of organizations, including: the Ugandan Ministry of Agriculture Animal Industry and Fisheries; the country's National Agricultural Advisory Services (NAADS); its Ministry of Finance, Planning and Economic Development; various international development agencies and foundations (IFAD, DFID, FAO, DANIDA, Winrock International and the Ford Foundation); and such NGOs as the Uganda Land Management Project (ULAMP), UWESO and FARM Africa. Ms. Nyamutale earned her MSc in Management of Agricultural Knowledge Systems from Wageningen Agricultural University in The Netherlands.
SAA Publications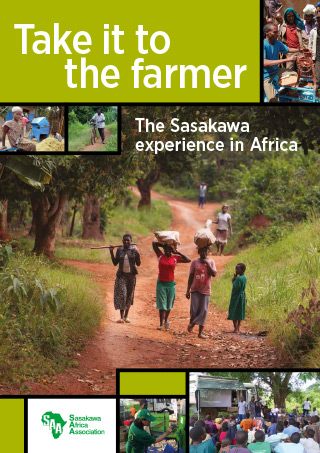 September.23.2016
Electronic version of SAA History Book is available here.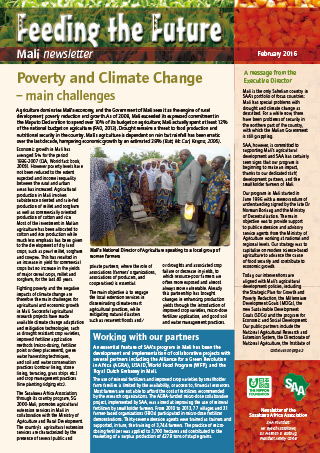 September.23.2016
Electronic versions of Feeding the Future are available here.
To be kept informed of Feeding the Future updates and news via e-mail or to order printed copies, please use our contact form here.