Technical Advisor to the President

Junichi Hanai (Japan) joined SAA in April 2020 and now serves as Technical Advisor to the President. He earned his MSc in Tropical Agriculture from Kyoto University and thereafter joined Japan International Cooperation Agency (JICA). Mr. Hanai has devoted himself mainly to the Agricultural Development of Sub-Saharan African countries for the last 30 years and played a significant role in the formulation of a new cooperation framework, including the Coalition for African Rice Development (CARD) and the Enhanced Drought Resilience in the Horn of Africa. During his time as the Chief Representative of JICA's Zambia office, Mr. Hanai served as chair of the donor coordination group and succeeded in facilitating the involvement of two emerging donors, China and India, into the group.
Strategic Partnership Director & Specialists

Dr. Mel Oluoch (Kenya, PhD), Strategic Partnership Director of the SAA, joined SAA in 2018 as the Regional Director and is based in Addis Ababa, Ethiopia. He has a PhD in Horticulture from Virginia Polytechnic Institute and State University (Virginia Tech, USA), a MSc in Horticulture from Central Mindanao University (Philippines), and a BSc Degree in Agriculture from the University of Eastern Africa (Kenya).
He is an Agriculture Research and Development professional with multidisciplinary background experience in horticulture, agronomy, project management, capacity building, rural agriculture development, seed systems, public-private sector partnerships, marketing systems, value chain development and technology transfer. He has previously held R&D and leadership capacities at the World Vegetable Center, the International Institute of Tropical Agriculture (IITA), HarvestPlus, International Center for Tropical Agriculture (CIAT), and Wageningen Plant Research, The Netherlands.
Currently, he coordinates SAAs strategic partnerships to enhance the design and program delivery of practical and innovative agricultural extension and advisory service and capacity building systems in Africa.

Dr. Stella Kabiri (Uganda, PhD) joined SAA in 2022 as Lead, Regenerative Agriculture. She is a trained Scientist in Production Ecology and Resource Conservation, with a PhD from Wageningen University, the Netherlands. She worked for the National Agricultural Research Organization (NARO) in Uganda as a Senior Research Officer and a Programme Leader for Technology Promotion and Outreach and acted as a Director of Research. She has worked extensively with farmer groups, policymakers and other stakeholders, to scale out proven Climate-Smart agricultural technologies. With support from the UN Economic Commission for Africa, Dr. Kabiri has a Post Doc. in Climate Research for Development (CR4D) at the African Academy of Sciences. She has a strong interest in negative carbon emissions in plant nutrition and sustainable nutrient use in crop production systems.
Country Directors

Fentahun Mengistu (Ethiopia, PhD) was appointed Country Director of SAA Ethiopia iin 2018. Dr. Fentahun earned his PhD from Boku University of Natural Resources and Life Sciences, Vienna, Austria in 2008. He served as a researcher and leader in the Ethiopian Agricultural Research System for 29 years. Before he joined SAA/SG2000 Ethiopia, he was Director General of the Ethiopian Institute of Agricultural Research, from 2013 to 2017. Prior to that, he served as Director General of the Amhara Regional Agricultural Research Institute, and Director of Adet Agricultural Research Center. During July 2017 – July 2018, he had been a Senior Agronomist for Tufts University on the USAID's Agricultural Knowledge Learning Documentation and Policy (AKLDP) Project based in Addis Ababa, Ethiopia.

Hamado Tapsoba (Burkina Faso, PhD) joined SAA in November 2022 as Country Director of SAA Mali. He holds a PhD and a MSc in Plant Pathology from the University of Georgia (Athens, USA), and a Bachelor of Science in Agronomy from the Institute of Rural Development of the University of Ouagadougou (Burkina Faso). Dr. Tapsoba has over 20 years of experience as a professional in agricultural research and development working in many countries in West Africa with different international non-governmental organizations such as Rikolto, the International Crops Research Institute for the Semi-Arid Tropics (ICRISAT) and the Collaborative Crop Research Program (CCRP) of The McKnight Foundation. His experience spans across seed systems, market access, youth and entrepreneurship in agricultural value chains, capacity building, multistakeholder processes, facilitation, and leadership development.

Godwin Atser (Nigeria, PhD) joined SAA in November 2022 as Country Director of SAA Nigeria. He has PhD and MSc in Agricultural Extension & Rural Development from the University of Ibadan and a BSc in Agricultural Economics & Extension from the University of Agriculture Makurdi. Prior to joining SAA, Dr Atser worked with the International Institute of Tropical Agriculture (IITA) on several projects funded by donors such as the African Development Bank (AfDB), International Fund for Agricultural Development (IFAD), World Food Program (WFP) and the Bill & Melinda Gates Foundation. He was the Project Manager for the GIZ/GIAE Cassava & Maize Value Chain Project; and Advocacy, Promotion & Outreach Lead for the Building an Economically Sustainable, Integrated Cassava Seed System, Phase 2 (BASICS-II) at IITA. He was the Digital Extension & Advisory Services Specialist with the African Cassava Agronomy Initiative (ACAI) project; and the Communication & Knowledge Exchange Expert with the Cassava Weed Management Project (CWMP), all in IITA. Dr Atser is skillful in digital extension, proposal development, advocacy, training, development communications, knowledge management, resource mobilization, marketing and public affairs/media relations.

David Wozemba Wetaka (Uganda) joined SAA in November 2022 as Country Director of SAA Uganda. He holds a Master of Business Administration degree and a Bachelor of Science degree in Economics from Makerere University; Diploma in Agribusiness, Coaching Skills Certificate, and Market Systems Training.
He has experienced over 20 years, building the capacity of a range of agribusinesses, business member organizations, public sector and NGOs throughout East and Southern Africa. For the last four years, he worked with the Cotton & Textiles Development Programme as a Deputy Country Director, funded by Gatsby Charitable Foundation. Prior to that, he was a Deputy Team Leader/Senior Technical Manager for DFID Climate Smart Agriculture Project- NU TEC MD. He also worked as a Commodity Portfolio Manager on USAID's innovative Commodity Production and Marketing project; Regional Market/Agro enterprise Specialist on Bill and Melinda Gates funded project implemented by CIAT and Strategy, Consumer Planning and Market Manager at East African Breweries Limited.
SAA Publications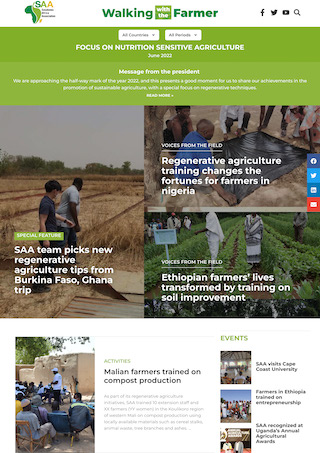 SAA publishes a bimonthly e-newsletter reporting on SAA activities.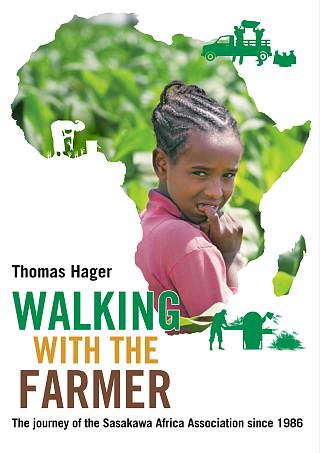 This book chronicles the history of SAA from its inception to the present.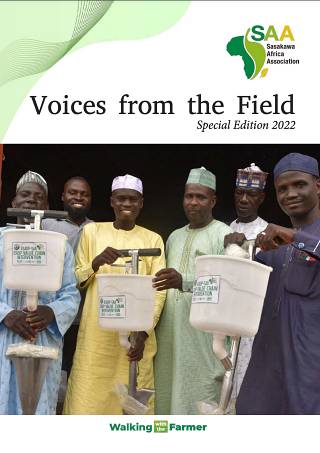 This is a special edition of the "Voices from the Field" articles.