About SAA
SAA and its SG2000 country programs work in close collaboration with national agricultural extension services in Ethiopia, Mali, Nigeria and Uganda to support smallholder farmers along agricultural value chain in terms of food security enhancement and livelihood improvement. The Sasakawa Africa Fund for Extension Education (SAFE), integrated into SAA on January 2018 – specializes in building the talents and skills of national extension staff in collaboration with agricultural departments of different universities in Africa.
Since 1986, SAA program has changed the lives of millions of smallholder farmers. The culture and spirit of SAA is perhaps best encapsulated by the last words of late Dr. Borlaug, a Nobel Peace prize laureate and was one of the founders of SAA. Even on his deathbed, Dr. Borlaug remained vitally interested in what science can do to improve the lives of resource-poor farmers, and when one of his last visitors was describing to him a promising new technology, Dr. Borlaug's only comment was "Take it to the farmer!" His admonition reflects the life he led, and defines clearly the enduring ethos of the organization he helped found.
Contents
SAA Publications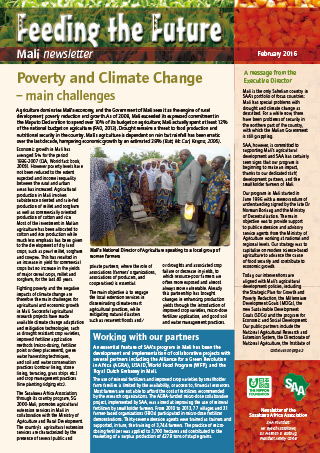 Electronic versions of Feeding the Future are available here.
To be kept informed of Feeding the Future updates and news via e-mail or to order printed copies, please use our contact form here.