Overview
1986: Registered in Geneva, Switzerland as international NGO
2015: Registered as general incorporated foundation in Tokyo, Japan
2017: Transferred activities of the Swiss SAA to the foundation.
2018: Integrated Sasakawa Africa Fund for Extension Education (SAFE)
Numbers of offices: 6 (Tokyo HQ, Regional Office, Country Offices in Ethiopia, Mali, Nigeria and Uganda)
Numbers of staff in Tokyo HQ:7
Staff at Regional Office and Country Offices:Appx. 170 (As of June 2017)
Structure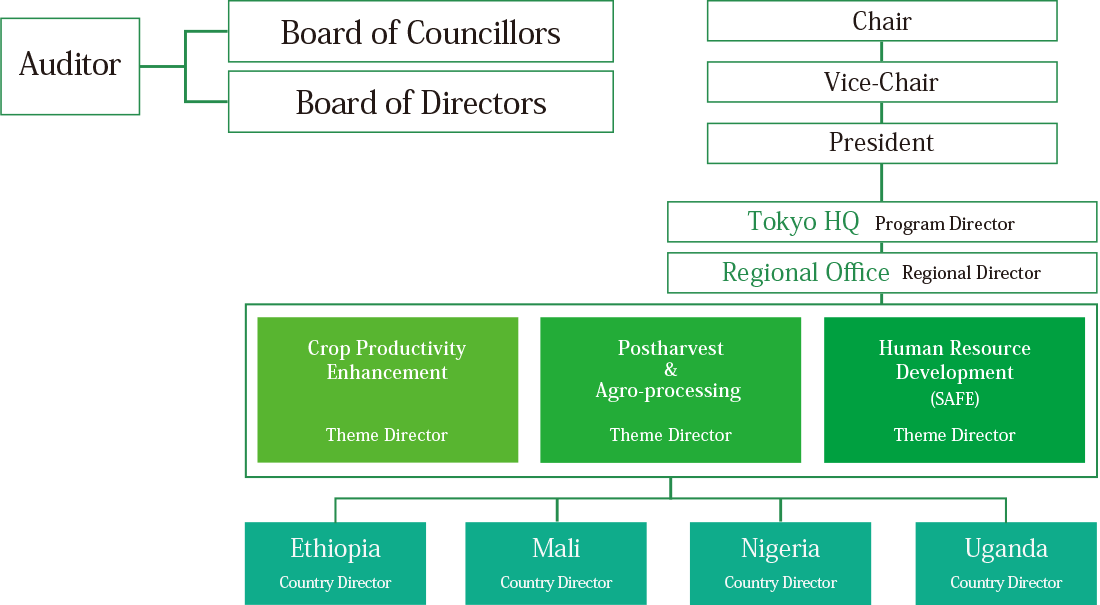 &nbsp
Locations and Contact
Administrative Headquarters & Regional Office
HQ (Japan)
The Sasakawa Peace Foundation Building, 5th Floor, 1-15-16 Toranomon Minato-ku, 105-0001 Tokyo, Japan
+81-3-6257-1870 +81-3-6257-1874

Katsuhiro Osako, Senior Executive Director

Regional Office (Ethiopia)
Gurd Sholla Daminarof Building, 4th Floor Bole Sub-City, Kebele 13
PO Box 24135, Code 1000, Addis Ababa, Ethiopia
+251-11-647-7670/71
Dr. Mel Oluoch, Regional Director

Dr. Deola Naibakelao, Deputy Regional Director in charge of SAFE

Country Offices
Ethiopia
Sasakawa Global 2000, 22 Street in front of Maria Ribatto Catholic School, PO Box 12771, Addis Ababa, Ethiopia
+251-116-358121/27
Dr. Fentahun Mengistu, Country Director

Mali
Sasakawa-Global 2000, Hamedallaye ACI 2000, Rue 335, Porte non codifiée, près du monument Bougie Ba, BP E3541 Bamako, Mali
+223-2029-5834
Dr. Sokona Sissoko, Country Director

Nigeria
Sasakawa Global 2000, No.8 Kura Road, Off Magajin Rumfa Road, Nassarawa GRA PO Box 5190, Kano, Nigeria
+234-806-6482663
Dr. Sani Miko, Country Director

Uganda
Sasakawa Global 2000 Plot 15A, Clement Hill Road, Ruth Towers, Nakasero PO Box 6987, Kampala, Uganda
+256-41-4345497 / 256-31-2261180
Dr. Roselline Nyamutale, Country Director

SAA Publications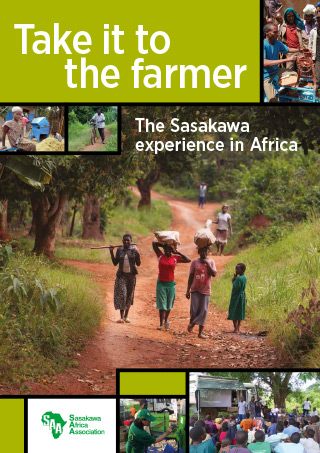 September.23.2016
Electronic version of SAA History Book is available here.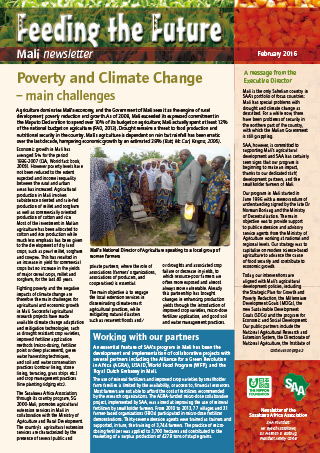 September.23.2016
Electronic versions of Feeding the Future are available here.
To be kept informed of Feeding the Future updates and news via e-mail or to order printed copies, please use our contact form here.