Overview
1986: Registered in Geneva, Switzerland as international NGO
2015: Registered as general incorporated foundation in Tokyo, Japan
2017: Transferred activities of the Swiss SAA to the foundation.
2018: Integrated Sasakawa Africa Fund for Extension Education (SAFE)
Numbers of offices: 6 (Tokyo HQ, Regional Office, Country Offices in Ethiopia, Mali, Nigeria and Uganda)
Numbers of staff in Tokyo HQ:9
Staff at Regional Office and Country Offices:Appx. 160 (As of February 2021)
Structure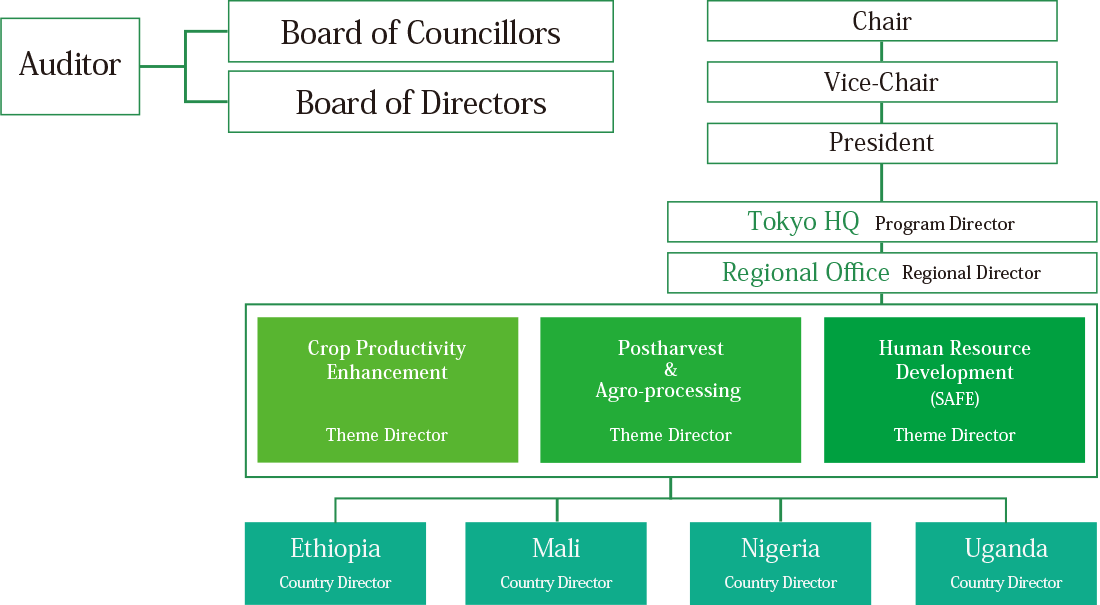 &nbsp
Locations and Contact
Administrative Headquarters & Regional Office
HQ (Japan)
The Sasakawa Peace Foundation Building, 5th Floor, 1-15-16 Toranomon Minato-ku, 105-0001 Tokyo, Japan
+81-3-6257-1870 +81-3-6257-1874

Regional Office (Ethiopia)
Daminarof Building, 4th Floor (next to Century Mall, CMC Road),Gurd Sholla, Bole Sub-City, Kebele 13 PO Box 24135, Code 1000, Addis Ababa, Ethiopia
+251-11-647-7670/71
Dr. Mel Oluoch, Regional Director

Country Offices
Ethiopia
Sasakawa Africa Association- Ethiopia
Gurd Shola area, CMC Road, Bole Sub-City, Kebele 13 Daminarof Building (adjacent to Century Mall), 3rd Floor PO Box 12771, Addis Ababa, Ethiopia
+251-116-683595
Dr. Fentahun Mengistu, Country Director

Mali
Sasakawa Africa Association- Mali
Hamedallaye ACI 2000, Rue 431, Porte 61, BP E3441 Bamako, Mali
+223-4490-5075 / +223-6669-6843
Dr. Sokona Sissoko, Country Director

Nigeria
Sasakawa Africa Association- Nigeria
No.8 Kura Road, Off Magajin Rumfa Road, Nassarawa GRA PO Box 5190, Kano, Nigeria
+234-806-6482663
Dr. Sani Miko, Country Director

Uganda
Sasakawa Africa Association- Uganda
Plot 15A, Clement Hill Road, Ruth Towers PO Box 6987, Kampala, Uganda
+256-41-4345497 / +256-393-261180
Dr. Roselline Nyamutale, Country Director

SAA Publications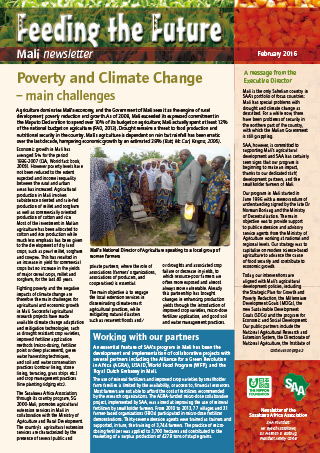 Electronic versions of Feeding the Future are available here.
To be kept informed of Feeding the Future updates and news via e-mail or to order printed copies, please use our contact form here.