A Milestone in Uganda
August.11.2017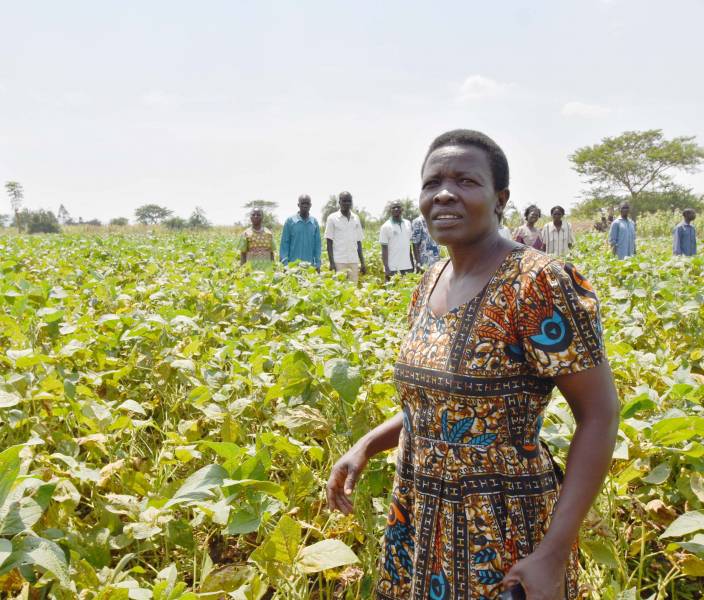 Mrs.Helen Epurege secretary of Nyarakoti Farmer Field School
Sunny and quiet morning in Tororo district, East of Uganda boarder to Kenya. Our team comprised of staff members from Sasakawa Global (SG) 2000 Uganda and reporters who represented different media institutions were heading to meet farmers which according to the preliminary briefing managed to register a commendable achievement under a group named Nyarakoti Farmer Field School revamped by the country program and Sasakawa Africa Fund for Extension Education (SAFE). Evergreen landscape with long stretched field where cattle enjoy their favorite meal nature provided while, nearby, local children bounce here and there feeling the ultimate freedom that the rural part of Uganda had to offer.
As planned, we reached at our destination and the humble farmers we set-out to meet were waiting for us under a shade of a tree. Elder women of the association received the convoy with a local welcoming song which we didn't hesitate to be part of. It was an extraordinary experience. We all felt honored.
The past year was a milestone for Sasakawa Africa Association (SAA) and its country programs. Thirty years of existence in Africa were duly observed through different events. SG2000 Uganda have also marked its twenty years of establishment with an event hosted at Ntungamo district which were attended by farmers, partner organizations, stakeholders and media professionals. A press briefing led by Dr. Roselline Nyamutale, Country Director of SG2000 Uganda launched the celebration. The press conference was followed by a field visit conducted at Rwentojo village in Itojo Sub County to observe activities of a group named Turyamureba Laban which is a model association successful in growing maize and beans by employing SG2000 Uganda's new technology. Postharvest machineries were showcased as part of the celebration preceding an award ceremony prepared as a token of appreciation for partners and most importantly farmers who were part of the country program from the very inception. A common message forwarded on the day and undoubtedly shared by everyone who were present on the event was that, SAA's intervention in Uganda has registered a great achievement which contributed to transform lives of smallholder farmers. Mrs. Helen Epurege, a 46 years old farmer from Tororo district shares this fact.
Nyarakoti Farmer Field School started working with the country program and SAFE project in 2013. Helen serves as secretary of the group and she is tasked to register the names and amounts collected from members as the money counter properly place the money in the designated safe. Members of the group reflected that they attended trainings designed to build their business skills. What makes the group unique is that they are fully engaged in group gardening which according to the head of the group enabled them to possess 15 acres of rice, 8 acres of soya bean, and 4 acres of maize. They also collectively aggregate their produce and bulk it for marketing which is rewarding them with good revenue. The group have received 10 million Ugandan Shilling through a revolving fund and recently returned the amount after making 6 million in profit.
Helen is a charming woman who possess unreserved passion for farming. She told us how the project benefited her. She says "personally I benefited a lot by the intervention. In 2013, my husband sadly passed away. It was the same year that the project commenced operation in our village. I was given one acre of maize demo plot along with consecutive trainings on pre and post-harvest handling techniques. I followed their guidance and managed to harvest in much better quantity than I used to produce. Raising children by my own was a challenge and formerly, I struggled to fulfill their needs. But now, my children are in school and I managed to send one of my kids to a boarding school. I'm doing very well in the farm and my saving has improved."
Such inspiring stories of the farmer echoed from the grass root either in group or individual basis are foundations of the SAA intervention in Africa.
As the long journey continues, SAA look forward to reach at more milestones. There is no better feeling than working with smallholder farmers and witness their success.
SAA Publications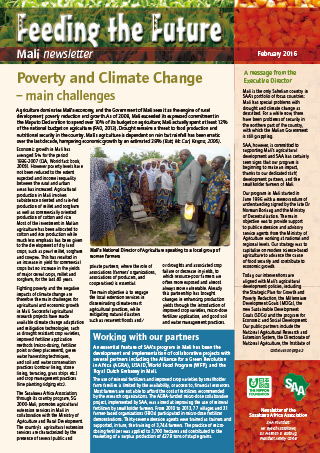 Electronic versions of Feeding the Future are available here.
To be kept informed of Feeding the Future updates and news via e-mail or to order printed copies, please use our contact form here.