Ruth Oniang'o, Chair of the Sasakawa Africa Association, wins the Africa Food Prize
September.11.2017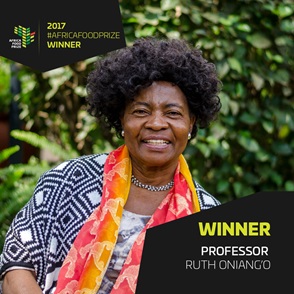 Hon Professor Ruth Oniang'o, Chair of the Sasakawa Africa Association (SAA) and Sasakawa Fund for Extension Education (SAFE), has been awarded the 2017 Africa Food Prize, in recognition of her role as a leading voice on nutrition in Africa. The prize recognises the best examples of those using agriculture to transform people's lives and stimulate economic development, and this year received over 600 nominees. The prize was awarded on the third day of the seventh African Green Revolution Forum (AGRF), which is taking place in Abidjan, Côte d'Ivoire, from 4 to 8 of September.
Speaking about her achievement, Professor Oniang'o said, "I am humbled to receive this Prize and believe it highlights the work we have done and more importantly, it will contribute towards shaping our continent's food future. With the Sasakawa Africa Association, our focus is on not just increasing food production, but increasing the capacity of smallholder farmers to add value through agro-processing, reduce losses with improved postharvest techniques, and increasing access to markets to encourage farming as a sustainable business. This holistic approach to agriculture, with an emphasis on nutrition, will stand Africa's smallholder farmers in good stead for generations to come".
Ruth Oniang'o will share the award with Malian agriculture entrepreneur, MME Maïmouna Sidibe Coulibaly, who was also recognised for her work in producing and supplying high yielding seed in Mali and other West African countries.
Following the award ceremony, Yoshimasa Kanayama, President of the Sasakawa Africa Association, added his congratulations. "I am delighted that Ruth's tireless work on nutrition in agriculture has been recognised by such a prestigious organisation. Her contribution to our mission of empowering smallholder farmers across Africa is invaluable, and I know I speak on behalf of everyone at SAA when I say that her award is well deserved".
A former Member of Parliament in Kenya, Professor Ruth Oniang'o is also an academic, scientist and nutritionist. She spearheaded the completion of Kenya's food and nutrition policy, facilitated the establishment of nutrition departments in Africa, and has given a voice to these issues internationally. She also founded the African Journal of Food, Agriculture, Nutrition and Development to highlight African issues to a wider audience. Prior to being awarded the Africa Food Prize, she received the 2014 International Food and Management Association (IFAMA) lifetime award.
The Africa Food Prize]
The Africa Food Prize began as the Yara Prize, and was established in 2005 by Yara International ASA in Norway to honour achievements in African agriculture. Moving the Yara Prize to Africa in 2016 and rechristening it the Africa Food Prize gave the award a distinctive African home, African identity and African ownership. The Africa Food Prize honours outstanding contributions within every aspect of agriculture and food production that is clearly related to combating hunger and reducing poverty in Africa.
SAA Publications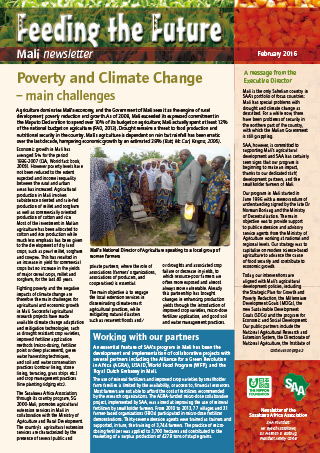 Electronic versions of Feeding the Future are available here.
To be kept informed of Feeding the Future updates and news via e-mail or to order printed copies, please use our contact form here.