Video link to Kenya Television Network's (KTN) coverage of Prof. Ruth's award:2017 Africa Food Prize
September.25.2017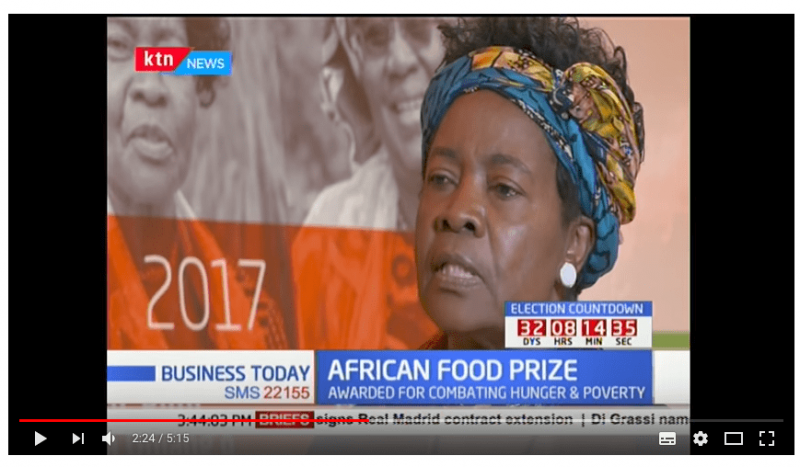 Media outlets continue with their coverage about Hon Prof. Ruth Oniang'o, who has recently won a coveted accolade becoming the 2017 Africa Food Prize corecipient with the Malian agriculture entrepreneur, Madame Maïmouna Sidibe Coulibaly.
The Chairperson of the Sasakawa Africa Association (SAA) and Sasakawa Africa Fund for Extension Education (SAFE) has been on the front pages of various publications, including those in the four SAA focus countries of Ethiopia, Mali, Nigeria, and Uganda. Honors and recognitions have poured in from the award ceremony's host Côte d'Ivoire to Hon Oniang'o's native Kenya.
One of the leading television stations in Kenya, KTN, aired the news and seized the occasion to catch up with the honoree. She told Philip Keitany, the network's senior business reporter: "I am overwhelmed and humbled. It's not about me, it's about finally acknowledging nutrition as part of the food system." She recalled: "When I started, I was a lone voice. And I made sure for Kenya particularly, where many of the universities having faculties of agriculture and actually training in food science, I said 'don't teach food science without nutrition. You need to understand what the food you talk and teach about, what it offers to the human being.' So we have many universities now in Kenya offering it. I have helped universities in other countries including Namibia, Malawi, Zimbabwe, and Tanzania to come up with similar programs." She went on to say: "from an independent panel which didn't even have nutritionists in it, to select me for what I had done on the ground championing it and through my African Food journal which has been a voice of advocacy", Prof. Ruth being that leading voice as the journal's editor-in-chief, that: "this happened by God's grace!".
She finally drove home the point: "I have been more focused on rural Africa where the smallholder farmers produce us food, who are the hungriest and the poorest, and we also have a growing urban population; fortification helps with urban nutrition because the rural people don't eat fortified food except Biofortification where you put the nutrients in the crops which is also an ongoing program".
Youtube link of Kenya Television Network's (KTN) coverage of Prof.Ruth's award
https://youtu.be/QUGrLZWW3JY
[ENDS]
SAA Publications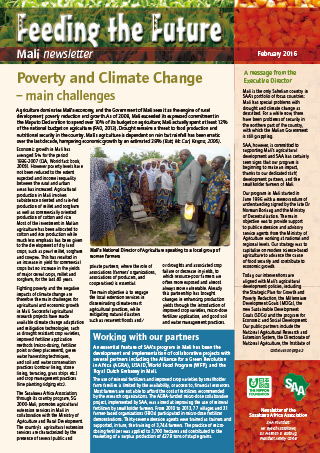 Electronic versions of Feeding the Future are available here.
To be kept informed of Feeding the Future updates and news via e-mail or to order printed copies, please use our contact form here.