Interview Series 3: How SAFE program and Christopher Dowswell Scholarship changed life of Elizabeth
December.20.2019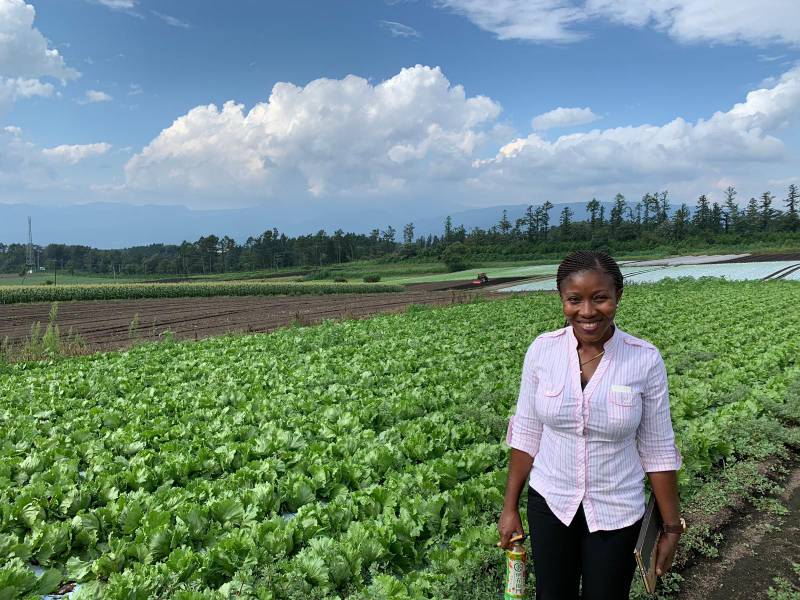 The Sasakawa Africa Fund for Extension Education (SAFE) has two main objectives: to integrate African universities and agricultural colleges into the agricultural development process, and to expand and strengthen the knowledge and skills of frontline agricultural and rural development advisory service providers, improving their capacity to serve the needs of smallholder farm families. SAFE works with 29 universities in 11 countries, and since its inception almost 7,000 extension agents have benefited from the program.

We spoke to Elizabeth Ogar, a young Nigerian farmer who took part in our official side-event at TICAD VII in Yokohama, about her experiences as a SAFE student and hopes for the future.

Elizabeth Ogar is a SAFE graduate from the University of Ilorin, Nigeria. She studied for her Bachelor of Science degree between 2014 and 2017, during which she conducted research on solutions in agriculture for women through the provision of education. She is currently pursuing a Master's degree in agricultural extension and rural development at the University of Ilorin.

Elizabeth was part of the panel discussion that took place during the SAA official TICAD VII side-event in Yokohama on 28 August, where she engaged with other young farmers and agriculture professionals and experts on the subjects of farming, entrepreneurship, and youth engagement in Africa and Japan.

The SAFE program offered Elizabeth an opportunity to "give back" to the rural communities that she grew up in, and to which she has dedicated herself. Before enrolling on the SAFE program, Elizabeth had been volunteering with an agricultural company involved in training rural women and youth, attending conferences, and looking for an opportunity to pursue a career in rural development.

"I was someone that had a passion for education and development from the very beginning", she explains. "I had a national diploma in agricultural technology, then a higher national diploma in agricultural extension and management, but during my third BSc year I went for direct entry and got admitted by two universities, so I had to pick one of the two, and eventually I picked one that had the SAFE program."

Financing her education "was not easy", says Elizabeth. "I depended on the profits I made from storage of farm produce, like cereals, and my little savings." In her third year, she successfully applied for SAFE funding*, which she used to support her research and access study materials and equipment, and credits SAA for "providing the platform for growth and development of people like me".

As a SAFE student, Elizabeth found the program offered a more "contemporary" approach to extension education. "They were doing more adult education than the conventional school system, so the students of SAFE brought their experience to the table. I found that very intriguing, and it was interesting for me. While there I discovered that we had more contact with the rural people. We go to the field to teach them, to give back to them what you've learnt."

She particularly enjoyed classes on Participatory Extension, Entrepreneurship, Program Planning, and Leadership and Communication in Extension. Classes in the Agricultural Value Chain allowed her class cohort to "understand the opportunities involved in carrying out every single activity along the value chain".

The SAFE student body also proved to be an educational experience in itself. "We were the youngest set of people in the class", Elizabeth explains. "We had a mixture of people in their careers that, ordinarily, without the SAFE program, they would have been stuck, they wouldn't have been able to go for that [education]. But as a result of the Sasakawa intervention they could."

"We had people in their 60s, in their early 70s – we called them grandpa! It was interesting. Those people have practical experience working in the field that we young graduates did not have at the time, so apart from our volunteering experiences that we brought to the table, they had a whole lot to offer, so they taught us a whole lot too."

As part of the SAFE program, students are required to undertake a Supervised Enterprise Project (SEP), which see students implement different extension-research projects in the field. SEPs are designed to narrow the gap between theory and practice, and act as a tool for capacity development and technology transfer between students and rural farming communities.

"During my SEP, I had to go to the rural community to teach them more about value addition", says Elizabeth. "I had to teach them where they had an abundance of plantain about how to use plantain to produce infants' meals. By combining plantain and purees from sweet potato, avocado, carrot, mango – you need all of that to make wonderful infants' meals. So that was what I came up with to help rural people combat the problem malnutrition, as a student of SAFE."

As a result of her participation in the SAA TICAD VII side-event, Elizabeth has received invitations to travel outside of Nigeria and meet with heads of development institutes to discuss youth empowerment. She is currently offering self-funded scholarships for girls to support primary education, and hope to share her passion for agriculture and entrepreneurship with others. "Since I received funding from Sasakawa which assisted me in my education, today I'm supporting other young girls", she says.

"My message to the youth out there is: the future is in our hands, and that future begins now", says Elizabeth. "If we don't prepare ourselves for the future, we might not end up having anything to pass down to the generation to come. But if we get ready and we are ready to make an impact, we will surely make an impact. I always say: it is better to live full, and die empty."


* Elizabeth was awarded a Christopher Dowswell Scholarship to support her studies.
Christopher Dowswell was aide-de-camp to Nobel Laureate Dr Norman E Borlaug, a founder of SAA who served as Chair of SAA and SAFE for more than 30 years. Chris worked tirelessly for SAA and SAFE's objective of supporting smallholder farmers, and particularly agricultural extension workers, until his death in December 2011.
Chris felt strongly about the need to empower women in African agriculture. When he passed away, Chris' family wished to make a contribution to the SAA program in honor of his name and SAA/SAFE decided that the creation of a scholarship fund for female extension workers was an appropriate use of the contribution.
The purpose of the Dowswell Scholarship is to increase the number of women serving as front-line agricultural extension staff. Having more women active in agricultural extension will also provide role models for young women and girls to follow them into the field, increasing the number of women extension agents and further expanding the impact of the scholarships and Chris' legacy.

For more information, please visit https://www.winrock.org/ms/christopher-dowswell-scholarship-fund/.


SAA Publications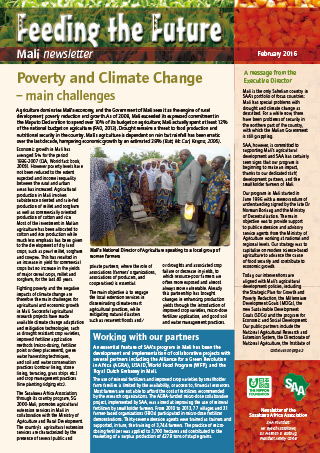 Electronic versions of Feeding the Future are available here.
To be kept informed of Feeding the Future updates and news via e-mail or to order printed copies, please use our contact form here.