SAA Mali Receives Award of Excellence from the Minister of Agriculture, Livestock and Fisheries
NEWS
February.26.2021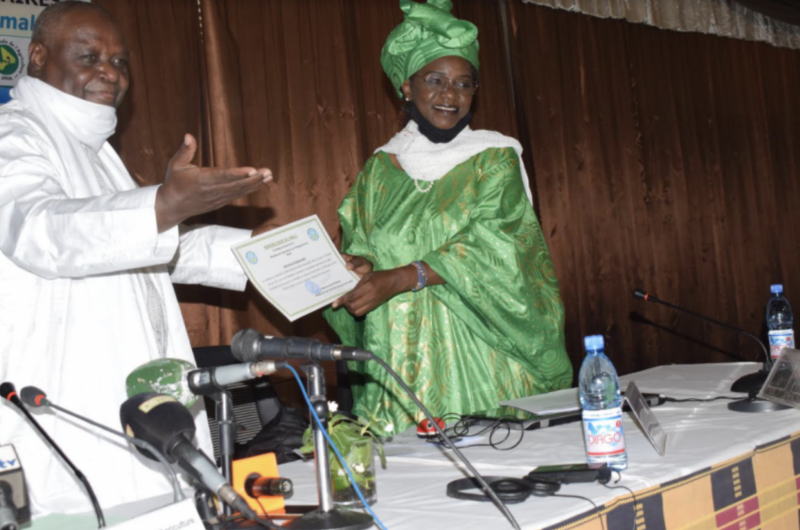 Dr. Sokona, SAA Country Director, received a certificate of recognition from the Minister of Agriculture, Livestock and Fisheries
On Thursday February 11 and Friday February 12, 2021, SAA-Mali held its Annual stakeholder Forum at the Azalai Hotel in Bamako. This event chaired by the Minister of Agriculture, Livestock and Fisheries; His Excellency Mr. Mahmoud Ould Mohamed focused on the theme "Sustainable Agriculture in a Context of Climate Change, Poor Soil Fertility, and the Covid19 Pandemic: Current Status and Future Prospects". Two other distinguished personalities namely the Ambassador of Japan in Mali, His Excellency Mr. Kuroki Daisuke San and that of the Kingdom of the Netherands in Mali namely His Excellency Mr. Marchel Gerrmann also attended the opening ceremony. Several dozen participants took part either face-to-face or remotely.
The objectives of this Forum were (i) to present the activities carried out by SAA in 2020, the main results obtained, with particular emphasis on extension models, (ii) to identify new technological opportunities; good practices and innovations of interest for agriculture in a context of climate change, soil degradation, and the Covid19 pandemic, (iii) discuss the current status, concepts, and practices, relating to sustainable agriculture, climate change, soil fertility management, nutrition-sensitive agriculture, the use of ICTs in diploma training (E-learning) and agricultural extension (E- extension) and (iv) to formulate perspectives for 2021 concerning the above-mentioned themes.
The key highlights of the opening ceremony which took place on a delayed basis on Friday, February 12, 2021 were the welcome remarks from the Country Director of SAA-Mali, Dr Sokona Dagnoko Sissoko; the welcome address from Dr Mel Oluoch, the Regional Director of SAA based in Ethiopia; the speeches by the two Honorable ambassadors followed by that of the Malian Minister of Agriculture, Livestock and Fisheries who officially opened the 2021 Annual Stakeholder Forum of SAA-Mali. On this occasion, the Malian Minister awarded SAA-Mali with a certificate of excellence in recognition of its innovative initiatives in agricultural extension and its unconditional and constant support to the Ministry in charge of agriculture, livestock and Fisheries through the National Directorate of Agriculture.
SAA Publications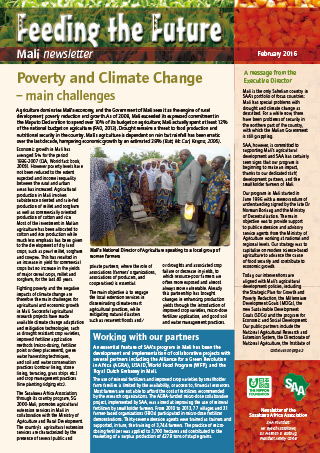 Electronic versions of Feeding the Future are available here.
To be kept informed of Feeding the Future updates and news via e-mail or to order printed copies, please use our contact form here.