55 midcareer students of Bahir Dar University, Ethiopia presented their Supervised Enterprise Projects (SEPs)
NEWS
June.20.2021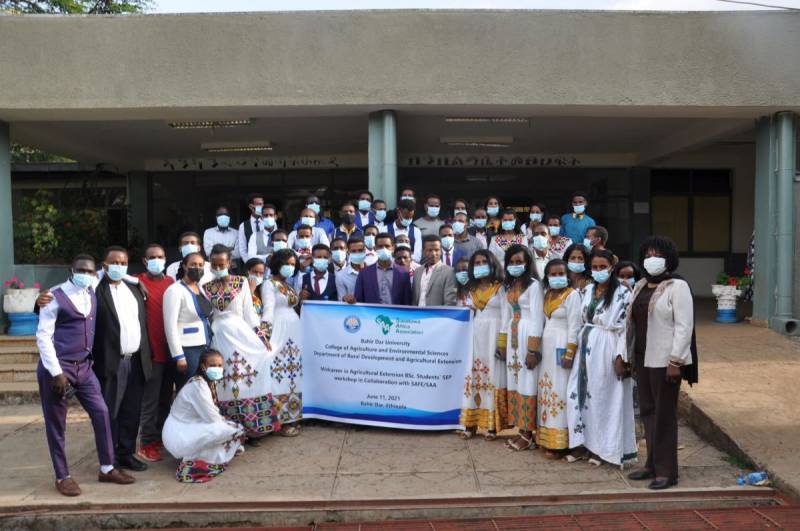 Final year students of Bahir Dar University with lecturers and SAA staff, during SEPs workshop
Supervised Enterprise Projects (SEPs) is a unique aspect of SAFE program which requires the students to work on action-based research with an aim to solve problems encountered by farming communities.

The Department of Rural Development and Agricultural Extension under the College of Agriculture and Environmental Sciences of Bahir Dar University, a partner university with Sasakawa AfriCA Association (SAA) organized the Supervised Enterprise Projects (SEPs) workshop for 55 final year students on the 11th & 12th of June 2021.

The workshop objective was to evaluate the action research projects report presented by the prospective graduates of third-year mid-career agricultural extension students. The students' presentation is a prerequisite for them as partial fulfillment for their Bachelor of Science in Agricultural Extension.
Soybean planted using the recommended row planting techniques
A unique achievement with the 2021 graduating class is that, for the first time, the University was able to train 23 students (out of 55 ) who came from the Benshangul Gumuz region and 32 are from the Amhara region. Besides, it is a great achievement to get the number of female students, 25 (45%) which is an indication of gender balance in terms of level of women participation in the training.
Training of farmers on the use of PICS bag for soybean storage

University instructors from the entire college, leaders, administrators, Bureau heads form Amhara and Benshangul Gumuz regions and students participated in the workshop. The final year students adequately presented their project findings due to the continuous follow-up from their advisors. Participants of the workshop highly appreciated the rapid change of the presentation skill by the students. The Bureau Heads were very impressed with the diversity and the coverage of the projects as there were 26 SEPs on Natural resource management, 2 on irrigation, 12 on crop commodities such as soybeans, vegetables and fruits, 15 on livestock and veterinary medicine. The previously graduated students used to select mainly crop science enterprises for their action research titles. In contrast, the current class of students did select different types of enterprises and different disciplines for their action research titles.

It was encourageing to see students opting natural resource management enterprises such as gully erosion, check dam, acacia, etc. The communial orientation of the SEPs that had to do with Natural resource management was highly appreciated by all participants as the projects benefitted the entire communities. The development objectives that cuts across the entire commodity value chain was another remarkable approach well sighted by lecturers from other departments with the suggestion that all undergraduate projects should be based on the action research approach with emphasis on both learning and development objectives. The Bureau heads and the graduating students were very happy to go back to the Kebeles and Woredas to serve farmers better by being able to provide advisory services along the entire value chains including marketing.

The partnership and contribution of SAA was significant and highly appreciated by the Dean, the lecturers and the Bureau Heads as well as the students, in providing support for the mid-career agricultural extension program since its launching in the University of Barhir Dar and Ethiopia in general. On particularly importance, consecutive training sessions conducted by SAA to the academic staff, students' seminar presentation held at different levels has improved the academic performance of the lecturers and they were able to supervise their students in the rural villages using a combination of face to face and audiovisual equipment's and teaching aids with their training facilities. Thanks to the traing sessions, the academic staff are able to capture professional photogrpahs, footages and edit audio-visual materials.
Mr. Habtamu Legesse presenting his SEP report

Below is one of the SAFE student, Mr. Habtamu Legesse's SEP report.
Promotion, Value Addition and Marketing of Soybean (TGX) Variety in Ayima kebele, Jawi District, Amhara Region, Ethiopia
Soybean was first domesticated in china in 2,500 BC (Peterson, 1992), and was first introduced in Ethiopia around 1950. It is a source of edible oil and protein and has become major industrial input crop in Ethiopia. Soybean also improves soil structure and fertility.
However, the current yield of soybean in Ethiopia is 18 quintals per hectare lower than the potential 25qu/ha (District Agricultural Office 2019 Annual Report). This is due to inappropriate agronomic practices coupled with inappropriate application of inputs such as fertilizer, improved variety of soybean. In addition, there is poor storage system as well with poor knowledge about improved storage facilities. In marketing space, farmers in the study are lack skill and knowledge about marketing with seasonal variation in prices. These problems had contributed to the reduction of farmers' produces and low income from the sector.

Objective of the action research is to:
Increase production of soybean from 18qn/ha to 25qn/ha
Add value to soybean quality by reducing post harvest loss using PICS bags
Create linkages between farmers and food processing factories, and
Improve knowledge and skill of follower farmers through field days.
The study was conducted in Ayima kebele, Jawi District of Amhara Region. The total population of the district is 116,076 with the total area of 58,795 hectare of land. Agriculture is the main source of livelihood of the population.
This research employed mixed research approach (both qualitative and quantitative). The research design of this study is experimental as it intends to test new varieties and local ones and also compare conventional and scientifically recommended practices.
For this action research, target farmers were selected using purposive sampling technique in consideration of suitability of the area for soybean production, voluntarism of farmers to participate and willingness to buy and apply inputs.
A total of 40 soybean producer households (30 males & 10 females) were selected as target farmers for development objective, while 80 follower farmers (60 males & 20 females) were selected using systematic sampling technique from the total of soybean producer farmers.
Both primary and secondary data were used for the action research. Primary data was collected from farmers, development agents and district agricultural offices expert using field observation, interview, and group discussion. Secondary data collected from related published and unpublished documents such as the woreda reports and statistical data, related articles and books, through document review. Collected data was analyzed using descriptive statistics.
For the production objective, a three days theoretical and practical training was given for target farmers. The three days training and discussions were based on site selection, land preparation, seed rate and variety selection, fertilizer rate and application, inoculation process of bio-fertilizer, sowing/planting time, planting method, weed control, pest management, harvesting, threshing and storage system using PICS bags.
The result of the action research revealed that 20% of farmers produce from 15-20qt/ha, with an average of 17.5 qt/ha., while 80 % of farmers produce 21-26 qt/ha, with an average of 23.5 qt/ha. After intervention, production of soybean increased from 18 qn/ha to 20.5qn/ha. Individual farmers were able to add 2.5 qt/ha of soybean on the average.
The research showed that before intervention farmers used local materials and sucks for storage which made it difficult to protect grains from moisture and fungi development and resulted in yield loss during storage time. However, after the introduction of PICS bag, the yield loss reduced by 6% per 100 kg of soybean stored. Forty target and thirty follower farmers adopted PICS bags after intervention.
Before intervention farmers used to sell their soybean to local traders which reduces the market share of farmers due to low price offered by middlemen.
After intervention, farmers were linked to the food processing factories directly with legal contractual agreements which helped them to get best prices based on company quality requirements.
The practical field day organized for 80 follower farmers (60 males & 20 females) resulted in improved knowledge, skill and attitude of follower farmers. The effectiveness of field day was also assessed by interviewing 40 farmers individually. Due to the field day, the average knowledge, skill and attitude of followers improved from 20 % to 85%.
As conclusion, the action research shows that by applying scientifically recommended agronomic practices, farmers can added 2.5 qt/ha soybean yield on the average. Contractual agreement also increases farmers' profitability by reducing market channel & increase market share. Field day has been proved to be effective in improving farmers' knowledge, skill and attitude towards the production of soybean. PICS bag also reduce yield loss during storage time and farmers need assessment play a vital role to identify farmer's real problems.
SAA Publications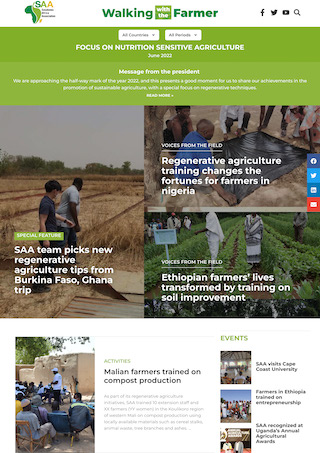 SAA publishes a bimonthly e-newsletter reporting on SAA activities.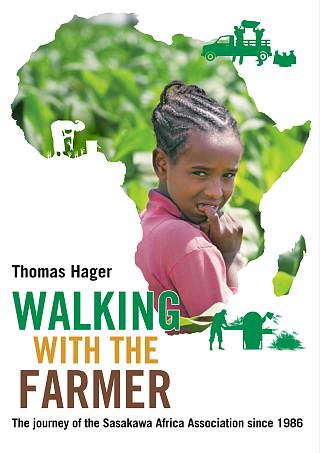 This book chronicles the history of SAA from its inception to the present.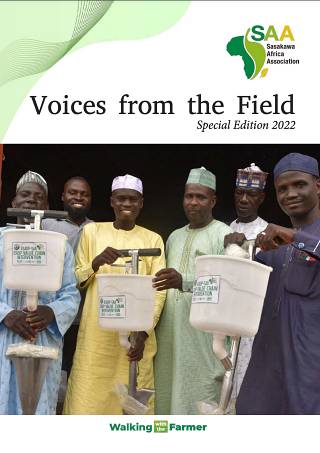 This is a special edition of the "Voices from the Field" articles.