<Register now! > IFPRI-SAA will co-organize UN World Food Security Summit Independent Dialogue (online) on August 6
EVENT
July.29.2021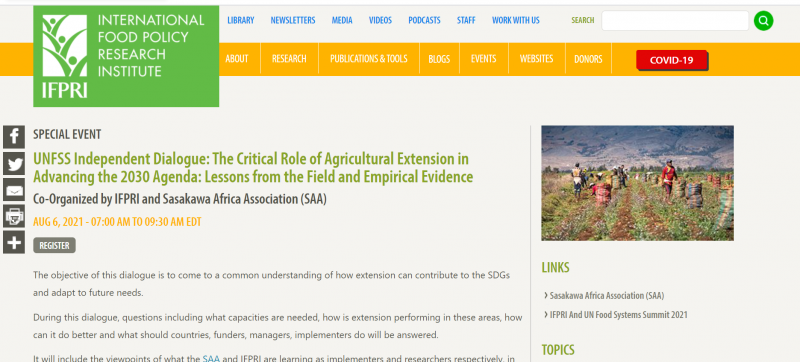 On August 6, SAA and IFPRI will be co-organizing UN World Food Security Summit Independent Dialogue: The Critical Role of Agricultural Extension in Advancing the 2030 Agenda: Lessons from the Field and Empirical Evidence.

The objective of this dialogue is to come to a common understanding of how extension can contribute to the SDGs and adapt to future needs.

During this dialogue, questions including what capacities are needed, how is extension performing in these areas, how can it do better and what should countries, funders, managers, implementers do will be answered.

It will include the viewpoints of what the SAA and IFPRI are learning as implementers and researchers respectively, in agricultural extension, with a focus on the future and the SDGs. They will highlight the ongoing IFPRI-Japan collaboration, as well as prepare for a summit side event in September, by bringing recommendations from the dialogue for action.

Please sign up through the event page below.
https://www.ifpri.org/event/unfss-independent-dialogue-critical-role-agricultural-extension-advancing-2030-agenda-lessons
SAA Publications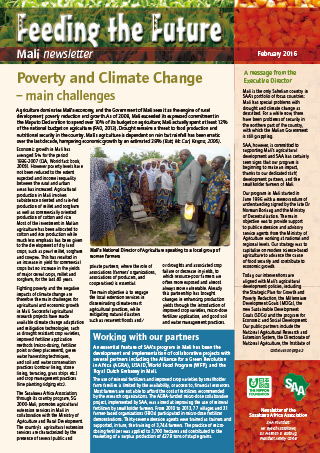 Electronic versions of Feeding the Future are available here.
To be kept informed of Feeding the Future updates and news via e-mail or to order printed copies, please use our contact form here.