SAA-IFPRI organized UNFSS Independent Dialogue: The Critical Role of Agricultural Extension in Advancing the 2030 Agenda: Lessons from the Field and Empirical Evidence
NEWS
August.9.2021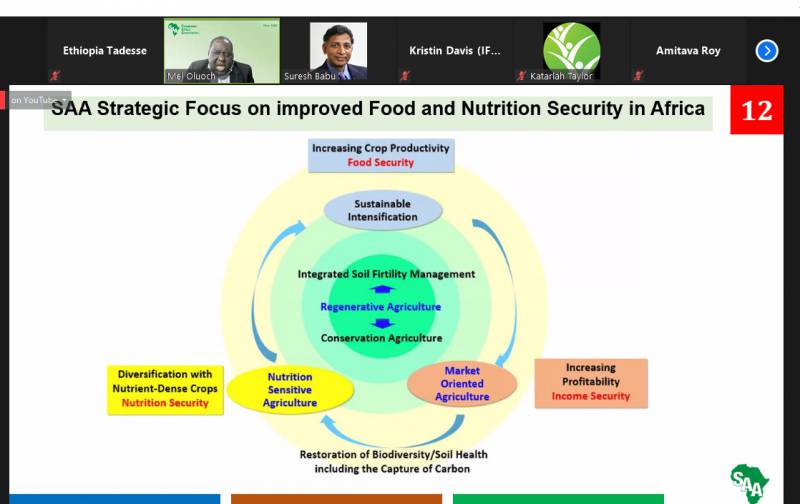 The Sasakawa Africa Association (SAA) in collaboration with the International Food Policy Research Institute (IFPRI) convened United Nations Food System Summit (UNFSS) independent dialogue on August 6, 2021. The virtual event discussed how agricultural extension and advisory services can support the Sustainable Development Goals, drawing on lessons from the field and empirical evidence in Africa and elsewhere. Stakeholders shared their expert knowledge, engaged in group discussions to come up with recommendations on effective models of extension and advisory services to enhance sustainability and resilience, promote nutrition-sensitive agriculture, and foster market orientation among Food System actors.

"To feed its growing population amid climate change and other challenges, Africa needs a food system that is nutrition-sensitive, efficient, safe, healthy, and environmentally sustainable. This requires bringing modern technologies to local communities, helping stakeholders to acquire the relevant technical know-how, and building strong partnerships and institutions. Education, agricultural extension and advisory services continue to play key roles in equipping relevant actors with technologies, knowledge and skills to meet the evolving needs of modern food systems. To complement limited public resources, identifying appropriate extension models remains crucial" was the key message from the dialogue.

Dr. Teunis van Rheenen, IFPRI-Director of Business Development and External Relations, in his opening speech described the linkage of this virtual event to the larger UNFSS and highlighted IFPRI-Japan collaboration. Dr. Amit Roy, SAA vice-chair, in his keynote speech shared the historical background of SAA, its contribution to Africa's food system as well as SAA's aspiration and focus in its current five years strategic plan.

Evidence and experience from research and the field on extension's role in sustainability, nutrition, and market access was presented by two Senior Research Fellows at IFPRI (Dr. Kristin Davis & Dr. Hiroyuki Takeshima) and Dr. Mel Oluouch, SAA Regional Director. Dr. Davis gave an overview of the book "Agricultural Extension: Global status and performance in selected countries" which assesses and compares extension systems at the national and regional levels and examines the performance of extension approaches in selected countries including two of SAA focus countries, Ethiopia and Uganda. Dr. Oluoch presented SAA's work across the agricultural value chain in training extension agents (EAs), demonstrating technologies and good agronomic practices as well as the impact of SAA interventions over the last 35 years in terms of poverty reduction and food & nutrition security. Dr. Takeshima shared the experience from IFPRI-SAA project in Uganda which helped refugees and host communities in transforming farmers' mindset to market orientation through Smallholder Horticulture Empowerment and Promotion (SHEP) approach.

During the Panel Discussion, panelists from Ethiopia and Uganda shared their perspective on extension's role in educating and supporting farmers in the areas of sustainability, nutrition, and markets. Ms.Yenenesh Egu, Director, Agricultural Extension Directorate, Ministry of Agriculture, Ethiopia described the commitment of the ministry to pluralistic, demand driven extension and advisory services. Ms. Yenenesh on the importance of participatory extension approach said "stunting at national level has gone down from 56% to 37% because of working closely with partners such as SAA".

Dr. Fentahun Mengistu, SAA-Ethiopia Country Director, reflected on the capacity needs of farmers and EAs to ensure food and nutrition security. Dr. Fentahun, emphasized the importance of understanding where farmers are currently positioned (lacking market information, focus on food production rather than nutrition etc.). Accordingly, trainings recommended for farmers include: how to grow to sell based on comparative advantage, production skills, climate smart agriculture, soil management, instill knowledge on the nexus between food and nutrition. The need for skilling and reskilling EAs on technical and communication aspects and recruiting new ones were underlined. While concluding, Dr. Fentahun said "Development partners need to fund local food systems on long term basis rather than focusing on global value chain."

Dr. Patience Rwamigisa, Asst. Commissioner Agricultural Extension Coordination, Department of Agricultural Extension and Skills Management, Ministry of Agriculture, Animal Industry and Fisheries, Uganda, added market failure, access to credit, postharvest and food safety to the list challenges faced by SHFs in Africa. He also raised the need for sustainable land management and collaboration between extension and research. Addressing the lack of continuity of several pilot initiatives, Dr. Rwamigisa said "We need to move from projectized to programmatic approach in agricultural extension. Investing in institutions is very critical".

In response to the question what can we do differently to ensure food and nutrition security, Dr. Roselline Nyamutale, SAA-Uganda Country Director, underscored the need to improve market as a pull factor for technology adoption, increase production of nutritious food, maintaining soil health and food safety, addressing inclusivity, postharvest handling and agro-processing, enhance funding for extension and advisory service and improve the working environment for extension workers. Dr. Nyamutale said "Extension workers are critical in transforming agriculture in Uganda. The current extension worker to farmer ratio is 1:1800. There is urgent need to strategize on how to deliver advisory services as well as market information through e-platforms."

The panel discussion was followed by three parallel breakout sessions under the following themes on how extension can facilitate: (A) Sustainable regenerative agriculture, (B) Nutrition sensitive-agriculture, and (C) Market oriented agriculture.


The Key recommendations from the panel discussion and breakout sessions include: Farmers should be at the center of food system & farms as a unit of transformation; The weakest link in agricultural value chain transformation is extension and it needs transformation; Capacity for scaling up and scaling out, from project to program approach; We need to go beyond training individuals and enhance the capacity of institutions as a whole; Create enabling environment: translating policy into strategy and ensure strategies are backed up by the required funding; While aspiring for Extension Workers to have broader perspective beyond technologies, we should be cognizant of not over burdening them; Focus on value-chain approach; Involve youth in franchised programs; Digitization of agriculture; and Give due consideration for social and behavioral change in dietary diverse crop consumption.

Dr. Makoto Kitanaka, SAA President, in his concluding remarks, thanked IFPRI and all participants for the productive deliberation. Dr. Kitanaka emphasized on the following recommendations for Agricultural Extension and Advisory Services (AEAS): focus on local food systems at the regional level; strengthen collaboration between governmental AEAS and private sector, promote e-extension and the use of e-platforms in AEAS and strengthen the relationship between research and implementers. On the latter, he commended the collaboration between SAA and IFPRI.
Finally, Dr. Suresh Babu, Head of Capacity Strengthening, IFPRI, thanked IFPRI, SAA and recognized the support of the Government of Japan to IFPRI. He also re-assured the recommendations from this dialogue will be conveyed to the United Nations Food System Summit (UNFSS) in September 2021.
SAA Publications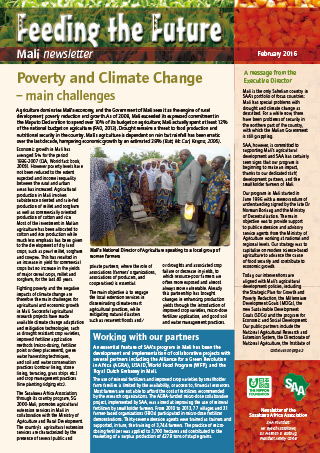 Electronic versions of Feeding the Future are available here.
To be kept informed of Feeding the Future updates and news via e-mail or to order printed copies, please use our contact form here.