SAA  at the African Seed Trade Association (AFSTA) 2021
NEWS
October.19.2021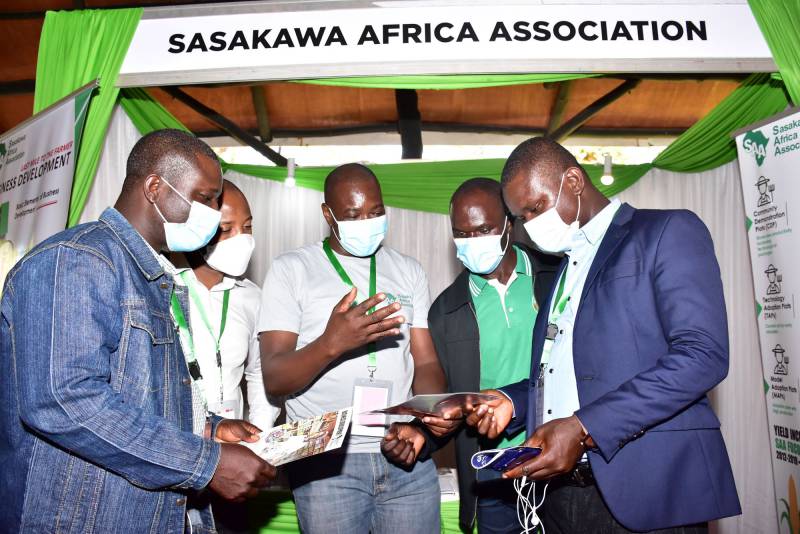 The 2021 African Seed Trade Association Congress was held in Kenya – Mombasa at Diani Reef Hotel from 27th – 30th September 2021. AFSTA is a not-for profit association formed in the year 2000 to take lead of the private seed companies and Regional Economic Community blocks in seed related matters in Africa, but it has seen its wings grow beyond the African Continent. To date, the Association has over 110 members comprising of seed companies, National and Continental Seed Trade Associations, all over the world.
Sasakawa Africa Association's (SAA) participated in the congress by holding an Exhibition both, where presented and showcased its interventions that has improved the livelihoods of thousands of farmers in Africa.
The SAA booth attracted high level dignitaries among; Mr. Salim Mvurya, Governor of Kwale County-Mombasa, Hon: Feisal Bader, MP Msambweni Constituency, Mr Kassim Owino, Chairperson Seed Trade Association of Kenya, Mr. Benjamin Rivoire, Head of Seed Sector Cooperation and Regional Development (Africa, Arab Countries), Mr. Justin J. Rakotoarisaona, Secretary General of AFSTA, Dr. B.M. Prasanna– Director CGIAR Research Program MAIZE & Global Maize, Dr. Isaac Macharia, Kenya Plant Health Inspectorate Service (KEPHIS), Dr. Andreas Wais, Secretary General of ISTA, Mr. Vladimir Mezui Ono, in charge of Patents and Plant Variety Protection. A total of over 16 countries were represented both from Africa and beyond.
AFSTA 2021 cemented the way to create and strengthen alliances with key actors in agriculture.
Mr. Ande Okiror, Regional Program Officer, Business Development had fruitful prearranged meetings with; Seed CO, a prominent market seed developing company which offers seed varieties to African farmers, Seed Trade Association of Kenya headed by Mr. Kassim Owino, East African Seed, HYTECH SEED INT, Valley Seed- Somalia, Syova Seed, SIMLAW SEEDS, CIMMYT, Cellsoft Technologies-UK, ISLA- Brazil, and PETKUS-Germany. The discussions hinged on seed-related topics; how to improve seed policy among the economic blocks, models on improved access to improved seed by Smallholder farmers, Climate change, disease control, use of IT to monitor Community seed production and evolving issues such as; Using statistics, seed trade, treatment and guidelines in AFSTA member countries, and updates on Impact and management of Desert Locus, new verities from CIMMTY that was very happy about its previous works with SAAs in relation to Quality Protein Maize technology dissemination and now wants to work with SAA to disseminate new wheat and barley verities.
Its notable that linkages made during AFSTA 2021 are already taking shape with SAA country teams in Ethiopia and Uganda already contacted by seed companies and Regional Director already in talks with Valley seed-CO, CIMMYT, HYTECH SEED INT., SIMLAW SEEDS for possible collaboration.
The AFSTA Congress 2022 will be held in Djerba, Tunisia from 28 February to 3 March 2022 as per to the organizers.
---
SAA Publications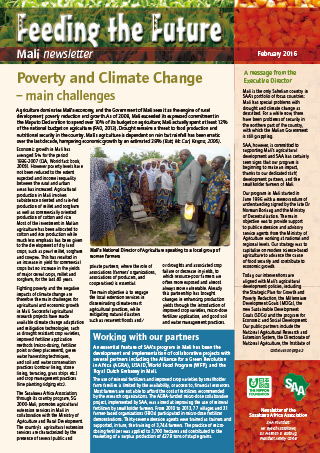 Electronic versions of Feeding the Future are available here.
To be kept informed of Feeding the Future updates and news via e-mail or to order printed copies, please use our contact form here.