SAA Ethiopia celebrated the 35th Anniversary of SAA
NEWS
December.2.2021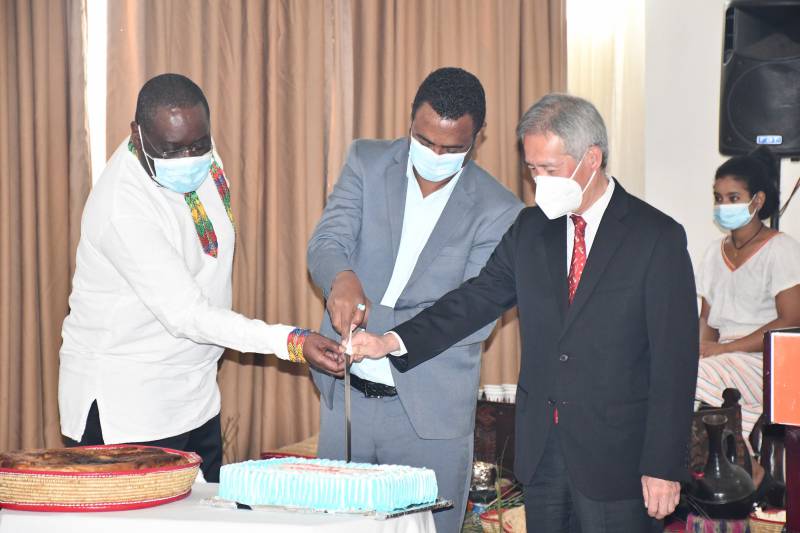 The 35th anniversary of the Sasakawa Africa Association was celebrated in Ethiopia on November 1, 2021 at an event gathering together senior officials from the Ministry of Agriculture (MoA), Buraus of Agriculture, Research Institutions, Universities, Private Sector, Partners, Farmers, as well as former and current members of SAA management and staff.
The event started with a welcome remark by Dr. Fentahun Mengiste, SAA-Ethiopia Country Director.
Dr. Makoto Kitanaka, SAA Preseident, in his keynote speech, expressed his appreciation to the Government of Ethiopia (GoE), the Ministry of Agriculture and all stakeholders who have supported SAA through the years. Reiterating SAA's achievements, Dr. Kitanaka mentioned the scaling up of SAA models by the GoE, training of extension agents and reaching out to smallholder farmers with improved technologies and good agricultural practices in Ethiopia. He also underlined that the year 2021 is special to SAA; not only because of the 35th anniversary, but also, it's the first year of a new five-year's strategy focusing on: Sustainable Regenerative Agriculture (SRA), Nutrition Sensitive Agriculture (NSA), and Market Oriented Agriculture (MOA) to realize food, nutrition and income security in Africa. Dr. Kitanaka also used the platform to introduce SAA's new logo to the gathering.
Mr. Yohi Sasakawa, the Chairman of the Nippon foundation, in his pre-recorded congratulatory message said "Today, we have in attendance those of you involved in agriculture in Africa from respective countries' governments, research institutes, and the non-profit sector. I strongly hope that you will continue to cooperate across countries and organizations for the future of agriculture in Africa. If we can join forces and work together, we can make the lives of people in Africa more prosperous and bring about a more hopeful Africa."
Prof. Ruth Oniago, the SAA Chair, also addressed the meeting by providing the historical background of SAA as well as expressing its commitment to ensure food, nutrition and income security in rural Africa. She also expressed her gratitude to the Nippon Foundation, which supported SAA through out the last 35 years.
H.E. Dr. Meles Mekonnen, State Minsiter, MoA
H.E. Dr. Meles Mekonnen, State Minsiter, MoA, in his opening speech, recognized the contribution of SAA to the significant progress Ethiopia's agriculture has made over the last two and half decades. He said "SAA was a pioneer in demonstrating pragmatically that in crops such as maize and wheat, doubling and tripling productivity on small plots is possible with improved technologies and good agricultural practices. Convinced by the evidence presented by the Sasakawa Africa Association, the Ministry of Agricultre wasted no time in adopting scaling, and replicating it in the national agricultural extension program, reaching 3.6 million farmers by 2001. SAA was also a forerunner in introducing small-scale post-harvest mechanization technologies. Another area of success worth mentioning is the training of Extension Agents to the degree level through its mid-career education program."
Regarding SAA's strategy (2021-20250, H.E, the state minister, expressed his great expectation that as part of the implementation of its new strategy, SAA will develop a prototype of the 1990's or higher that receives the government's buy-in and can be scaled up to a national level to transform agriculture in Ethiopia.
In appreciation of the Nippon Foundation and its Chairman, the state minister said "I would like to take this opportunity to thank Mr. Yohei Sasakawa, Chairman of the Nippon foundation, for his dedication and long-standing support for our agricultural development. I hope that this support will continue until we have defeated food insecurity and poverty in our country and across the continent". The Ministry of Agriculture has handed over a certificate of recognition to Mr. Sasakawa. Dr. Kitanaka also presented a certificate and token of appreciation to the Sate Minister, Dr. Meles
Testimony of Beneficiary Youth
Following the opening session, two presentations were made by Dr. Mel Oluoch, SAA Regional Director and Dr. Fentahun Mengistu, SAA-Ethiopia, Country Director. While Dr. Oluoch presented SAA's achievements and contributions to African agriculture development, Dr. Fentahun focused on SAA's achievements and contributions to Ethiopian agriculture development and the new strategy. Subsequent to the two presentations, a discussion and reflection was made by participants. Farmers and other stakeholders added their voices by giving testimony of SAA's intervention and the impact it brought in their life. The former country director of SAA-Ethiopia, Dr. Aberra Debelo also shared his memories with SAA. The event was also accompanied by an exhibition that displayed photos, publications, posters and awards depicting SAA's history over the last 35 years.

Certificates of appreciation were handed over to partners, stakeholders as well as former SAA-Ethiopia management and staff for their contribution and support extended to SAA. The event, among others, brought together people who worked with SAA but never met before.
Finally, a closing remark was given by Ms. Yenenesh Egu, Director, Agricultural Extension Direcotorate, MoA.
SAA Publications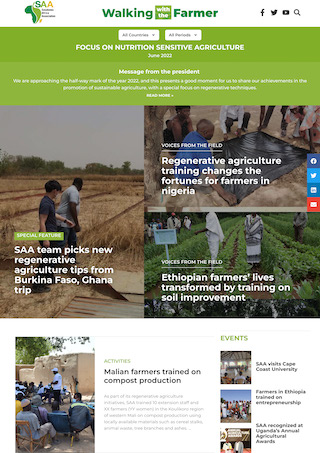 SAA publishes a bimonthly e-newsletter reporting on SAA activities.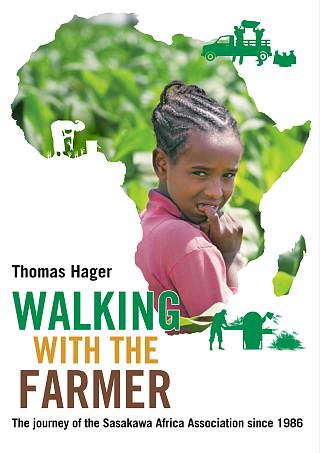 This book chronicles the history of SAA from its inception to the present.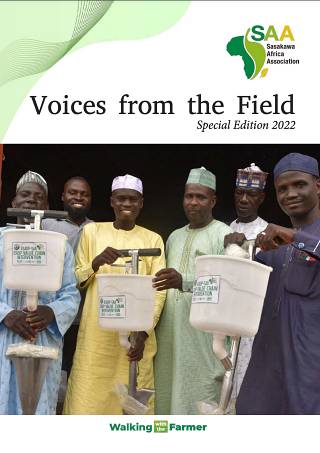 This is a special edition of the "Voices from the Field" articles.