SAA signed MOU with AFAAS and took part in the 5th Africa-wide Agricultural Extension Week 2021
NEWS
December.14.2021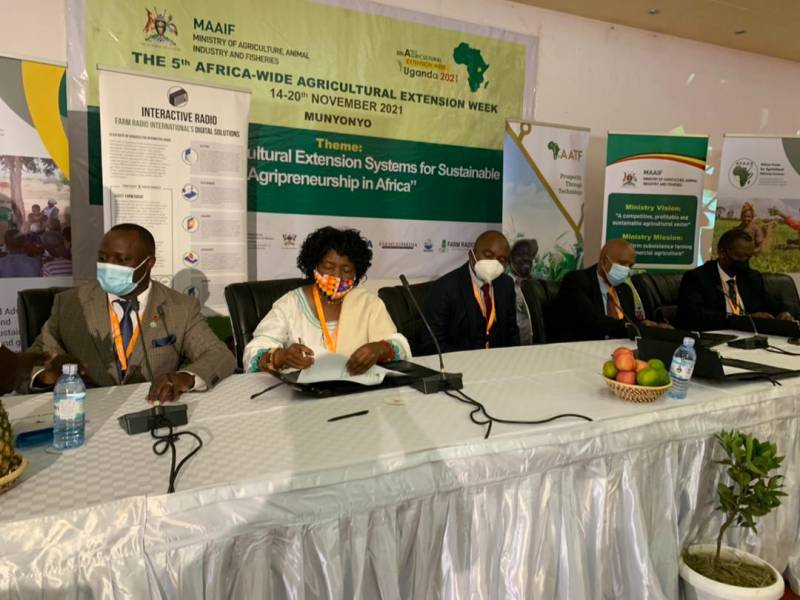 SAA Chair Ruth Oniang'o signing MOU with AFAAS
The African Forum for Agricultural Advisory Services (AFAAS) and Uganda Forum for Agricultural Advisory Services (UFAAS) organized the 5th Africa-wide Agricultural Extension Week in Kampala hosted by the Ministry of Agriculture Animal Industry and Fisheries (MAAIF). Under the theme: "Effective Agricultural Extension Systems for Sustainable Agripreneurship in Africa".

The event brought together Agricultural Extension and Advisory Services (AEAS) actors from the public sector, private sector organizations and Non-Government Organizations (NGOs), Farmer Based Organizations, Community Based Organizations, Research and Educational institutions and Continental Network members (UFAAS, AFAAS). The event provided a platform through Agricultural Extension and Advisory Services (AEAS) actors to share their achievements and lessons on several extension innovations and topics.

During the event, the SAA Board Chair and AFAAS Patron Prof. Ruth Oniang'o delivered a goodwill message from SAA President, highlighting SAA's new strategic plan pillars; Regenerative Agriculture, Nutrition Sensitive Agriculture and Market Oriented Agriculture. She reiterated SAA's commitment to contributing to developing resilient food systems in Africa.
The Country Director making a presentation during the side event
During the week, Sasakawa Africa Association organised a side event Mobile Based Extension: Bridging the gaps in agricultural extension during pandemics under the sub-theme AEAS resilience to pandemic and emergencies: lessons across Africa.

In the side event, SAA shared strategies it has implemented to intensify mobile-based e-extension services to increase access to timely information among value chain actors. The plenary of the side event included SAA Regional Director Dr Mel Olouch, The Country Director SAA Uganda Dr Roselline Nymamutale, Ministry of Agriculture Animal Industry and Fisheries (MAAIF) official Dr. Angella Namyenya a Senior Agricultural Extension Skills Management Officer, Akaboxi CEO and Founder, Ms. Sarah Atuhaire supporting farmer groups to digitially keep records for financial inclusion and a Community Association Trader (CAT) Mr. Sewakiryanga a youth from Kiboga District, who is helping farmers to access input markets using an e-extension platform (Ezy Agric) and M-Omulisa official Mr. Daniel Ninsiima the proprietor of M-Omulimisa an e-extension application assisting farmers in accessing timely advisory services.
During the week, SAA signed a Memorandum of Understanding with AFAAS to deepen the partnership and develop strategies to address bottlenecks in extension service delivery and food security in Africa. The signing of the MOU was witnessed by the Board Chairperson of SAA, Prof. Ruth Oniang'o
SAA Board Chair with SAA staff at the SAA booth
SAA had an exhibition booth for a whole week where it showcased SAA work and different technologies along the various value chains it promotes.
During the week, SAA awarded two individuals that have contributed to the agricultural extension service provision in the country.
SAA Publications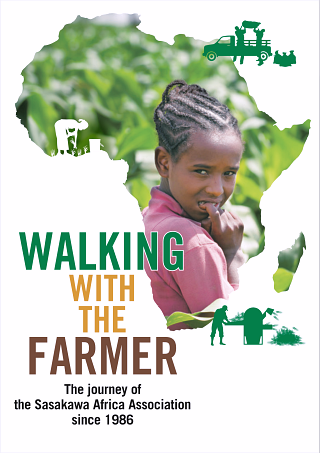 Electronic version of SAA history book, "Walking with the Farmer"is available here.