SAA-Uganda Commemorates Sasakawa Africa Association's 35th Anniversary
NEWS
December.23.2021
State Minister for Agriculture, Animal Industry and Fisheries, Hon. Fred Kyakulaga Bwino awards best farmers groups at SAA 35th anivesary celebrations -Kibuku district.
Sasakawa Africa Association(SAA) marks a significant turning point and stands tall with a stronger legacy of 35 years of transforming livelihoods through agriculture in Africa.
SAA has leveraged the power of modernized agriculture for real impact on food security, nutrition and household incomes of smallholder farming families in Africa. The anniversary coincided with the silver jubilee anniversary of SAA in Uganda and run under the theme: "Positioning smallholder farmers for Agro-industrialisation." The anniversaries were marked by a series of activities including the launch of a new logo, slogan 'Walking with the farmer' and a series of activities held in Kibuku and Luweero districts.
Mr. Yohei Sasakawa, the chairman of Nippon Foundation of Japan (main funder of SAA programs in Africa) in his virtual message expressed resolve to expand Agriculture in Africa. "If we join forces and work together, we can make sure that the lives of people in Africa are more prosperous and bring about a more hopeful Africa," he concluded.
Presiding over the celebrations held in Kibuku district, State Minister for Agriculture, Animal Industry and Fisheries, Hon. Fred Kyakulaga Bwino, said, "I laud SAA for working diligently to secure food security and improve the income of smallholder farmers in Uganda. Their effort in complementing the work of extension workers in the Agriculture sector is commendable."
Dr. Patience Rwamugisa, the commissioner for agriculture, extension services and skills management at the Ministry of Agriculture, Animal Industry and Fisheries (MAAIF) officiating at the celebrations held in Luweero district commended SAA for its much needed support to farmers in Uganda.
Cake cutting during celebrations to mark SAA's 35th Aniversary Celebrations-Kibuku district.
"We have come a long way and these 35 years in Africa and 25 years in Uganda are replete with innumerable success stories. Together, we have navigated a long journey and standing at the cusp of a new era; we are looking forward to many more years of scaling heights and attaining significant milestones," said the Country Director, Sasakawa Africa Association, Uganda program, Dr. Roselline Kabasiita Nyamutale.
She added that in its new 2021-2025 strategy, SAA plans to focus on sustainable, resilient and regenerative, nutrition-sensitive and market-oriented agriculture. while addressing inclusivity, capacity building and e-extension as cross-cutting issues.
Part of activities to commemorate the anniversary included exhibitions, demonstrations and awarding farmer groups, among others.
Since its inception, SAA has operated in 75 Districts, built the capacity of 4180 Agriculture Extension Agents, and reached over 1,500,000 smallholder farming households in Uganda among other achievements. SAA's work is in line with the Sustainable Development Goals (SDGs), Uganda Vision 2040, and National Development Plan 3(NDP3). Nippon Foundation of Japan is the main funder; other partners include aBi Trust, K+S Kali GmbH- Germany, WFP, European Union (EU) National Agricultural Research Organization (NARO) and National Agricultural Advisory Services (NAADS), International Fund for Agricultural Development (IFAD), Input Companies, Finance Institutions, Makerere University, JICA, International Food Policy Research Institute(IFPRI), Africa Forum for Agricultural Advisory Services (AFAAS), UFAAS and Farmers.
SAA's field operations are currently focused in four countries Ethiopia, Mali, Nigeria and Uganda.
SAA Publications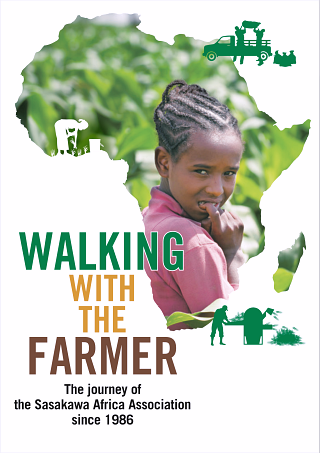 Electronic version of SAA history book, "Walking with the Farmer"is available here.