SAA-Uganda Engages Stakeholders on New Strategic Plan (2021-2025)
NEWS
February.10.2022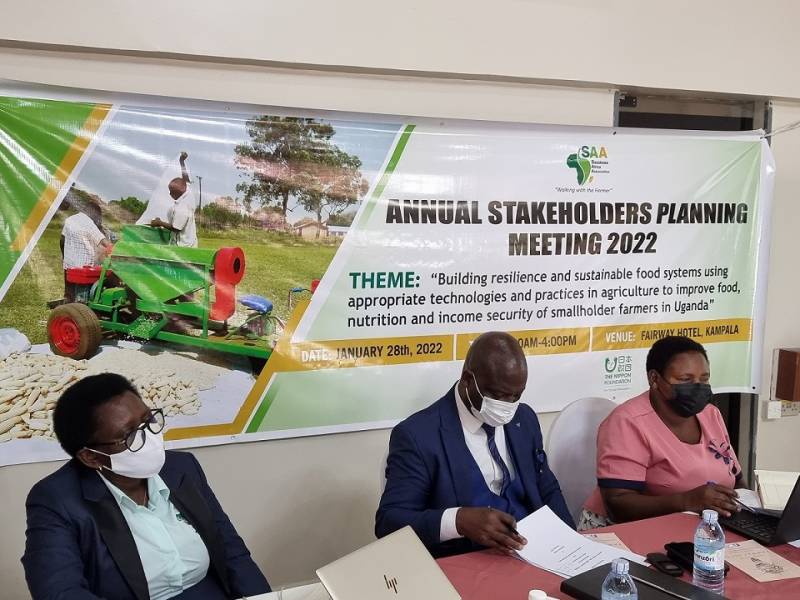 The SAA, Uganda program successfully held and concluded its Annual Stakeholders Planning meeting on 28th January 2022 at Fairway Hotel, Kampala. Uganda.
It run under the theme, "Building resilience and sustainable food systems using enhanced technologies and practices in Agriculture to improve food, nutrition and incomes of smallholder farming families in Uganda"
The meeting attracted eighty five (85) stakeholders from the public and private sector in Uganda.
Dr.Kitanaka Makoto, the President of Sasakawa Africa Association joined in via zoom, and commended participants saying their attendance is greatly appreciated.
He said, "We felt that it is important that you understand SAA's new strategic direction so as to identify areas of partnerships along the value chain," he divulged. He added that SAA is resolute on providing strategic and practical innovative solutions that will drive growth and knowledge sharing as per her mission.
Beatrice Namaloba, a representative from the Ministry of Agriculture, Animal industry and Fisheries (MAAIF) explained the parish development model and said it was devised to accelerate interaction between the government of Uganda and its people, and to attain government's long-term goal of socio-economic transformation
On her part, the Country Director of SAA, Uganda, Dr. Roselline Kabasiita Nyamutale, expounded on the strategic plan (2021-2025) saying SAA Uganda is focused on enhancing innovativeness in agriculture extension (use of e-extension platforms), ending poverty and hunger, and promoting climate smart agriculture.
"SAA is promoting agricultural practices that sustainably increase productivity, enhance resilience and reduce greenhouse emissions where possible," she explained.
Last year 2021, the Uganda program successfully established farmer learning platforms, trained Extension Agents, farmers, private service providers, and machine operators among others achievements. However, farmers were plagued by seasonal and climatic changes, poor internet connectivity, lack of skills to operate smart phones, increased prices of agro-inputs and the farmers' failure to warm up to Local Seed Businesses(LSBs). It was noted that while farmers were willing to learn new things, they are unwilling to unlearn their old habits which requires a systemic and systematic mindset transformation.
Other pertinent issues were raised and they included: the need for financial institutions to provide long term loans up to eight years particularly for the youth, crop insurance, scaling out appropriate technologies (climate smart) to other areas, developing programs for the media among others. The identified areas of opportunity for SAA are supporting smallholder solar irrigation (1-5 acres), introducing a new value chain that is adaptive to the Karamoja environment and scaling based on lessons, a viable alternative agricultural activity to feed the cow and working with a highly commercial product with assured local market and high potential for export.
Participants listening to a speech by SAA Uganda's Country Director at Fairway Hotel
The meeting was held with the intention of sharing the new strategy plan (2021-2022) with stakeholders, receiving feedback on the same, and discussing opportunities of partnerships along the value chain.
The new strategy hinges on three (3) key strategic pillars; Regenerative agriculture, Nutrition sensitive Agriculture and Market oriented agriculture. It was formulated in response to emerging global challenges particularly soil degradation, climate change, rapid population growth, increasing youth unemployment, and the spread of COVID-19. It is aimed at reducing poverty for smallholder farmers in Africa as per SAA's vision and mission.
SAA continues to provide comprehensive support and covering the entire value chain from production, postharvest, agro-processing and marketing to enhance the chances of Uganda achieving national food security and the sustainable development goals.
Participants included SAA staff, and partners from MAAIF, input companies, off taking companies, SAA alumni, Partner universities- Makerere, Gulu, Uganda Christian University; financial institutions such as Equity bank, the National Agriculture Research and Extension organization, the International Agricultural Research Center, USAID-Chemonics and farmer organizations; among others.

SAA Publications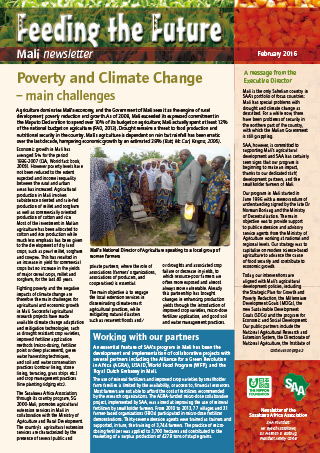 Electronic versions of Feeding the Future are available here.
To be kept informed of Feeding the Future updates and news via e-mail or to order printed copies, please use our contact form here.