" Pro-environment Market-oriented Agriculture Promotion Project in Ethiopia " approved for the Japanese MOFA's Grant Assistance for Japanese NGO Projects
NEWS
March.18.2022
Installing a drip irrigation system
On March 14, 2022, "Pro-environment Market-oriented Agriculture Promotion Project ( PREMAP)" of which proposal SAA submitted to the Japanese Ministry of Foreign Affairs (MOFA) for Grant Assistance for Japanese NGO Projects was approved with the total project budget of JPY 82,629,665. This project will start on March 31 in the Federal Democratic Republic of Ethiopia.
The project aims to increase income and improve nutrition for approximately 20,000 smallholder farmers as well as to reduce greenhouse gas emissions through the use of AI farming support device "e-kakashi" (*2) provided by Softbank(*1), which is registered as a decarbonization product under the Climate Solutions Technologies Initiatives.
Majority of agricultural practices in Ethiopia rely on rainfalls, which is greatly affected by climate change such as drought. While Farmer Training Centers (FTCs) have been established in about 14,000 villages (kebeles) in the country, most of its basic infrastructure including power and water sources are not in place. Moreover, most smallholder farmers engage in subsistence farming, dependent on conventional practices, in which crops are grown and sold only if there is a surplus, resulting in unstable income.
This project will strengthen the capacity of two FTCs in Amhara and Oromia region, focusing on production of vegetables and paddy rice, which can be a good source of income, by equipping them with solar-powered cold storage and small-scale irrigation facilities (pond/pump). In addition, "e-kakashi" will be introduced to the FTCs and the National Rice Research and Training Center in Amhara region with the aim of establishing water- and fertilizer-saving cultivation techniques that have less environmental impact.
Training of women farmers in the FTC plots.
The project aims to revitalize the FTCs as incubation centers which disseminate innovative agricultural technologies and provides training to smallholder farmers on productivity enhancement as indicated above, post-harvest loss reduction, and marketing. This intervention is expected to increase the income of smallholder farmers and at the same time mitigate their environmental impact by reducing methane emissions from rice paddies and increasing soil organic matter (carbon) in the fields, which leads to curbing of greenhouse gas emissions from agricultural land. Through this project, SAA will pursue both livelihood improvement for smallholder farmers in Africa and climate change mitigation.

*1: On November 5, 2021, Sasakawa Africa Association (SAA) and Softbank signed a Memorandum of Understanding (MOU) on the establishment and dissemination of scientific cultivation technologies using agricultural IoT, as well as approaches toward social implementation in Africa. The purpose of this cooperation is to mutually share know-how and collaborate on the development and diffusion of smart agriculture technologies to reduce the impact of climate change, utilizing e-kakashi developed by Softbank, based on SAA's knowledge and experience in supporting agricultural development in Africa over years.
*2: e-kakashi is a service that supports farmers to suggest optimal cultivation methods by using AI incorporating plant science to analyze environmental data collected from fields. The technology and data can be used to improve efficiency, increase production and quality, and disseminate agricultural skills. They are also expected to be effectively used for research and demonstration experiments for the realization of sustainable agriculture in the future.
SAA Publications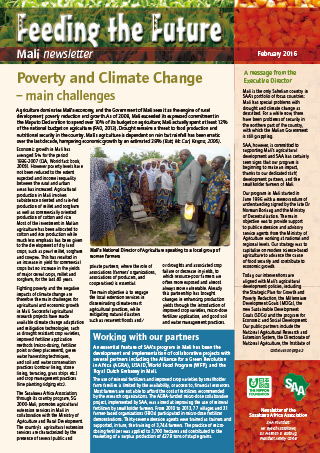 Electronic versions of Feeding the Future are available here.
To be kept informed of Feeding the Future updates and news via e-mail or to order printed copies, please use our contact form here.