SAA-Ethiopia hosted a visit by Mr Yohei Sasakawa, the Chairman of The Nippon Foundation
NEWS
September.27.2022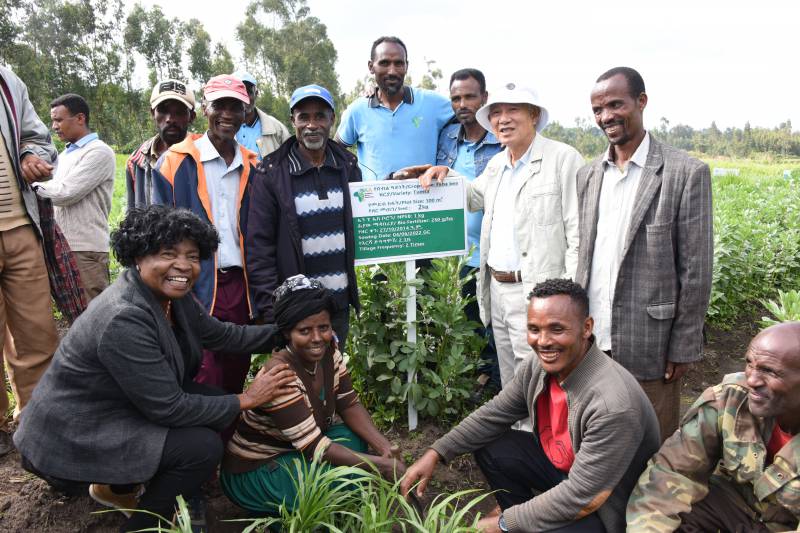 A group photo with farmers practices Regenerative Agriculture
At the end of August, the Chairman of The Nippon Foundation, Mr. Yohei Sasakawa, participated in the 8th Tokyo International Conference on African Development (TICAD 8) in Tunisia and then visited Ethiopia to visit SAA's intervention sites. SAA's board chair, Hon. Prof. Oniang'o, President Dr. Kitanaka, and Prof. Shirato, accompanied the visit to the field and they listened to the voices of the farmers there.
SAA-Ethiopia Country Director, Dr. Fentahun, explained Mr. Sasakawa and Hon. Prof. Oniang'o their activities in the field
A farmer conveyed her gratitude to the support through an interpretation by SAA staff
Visitors were treated to a traditional Ethiopian bread, dabo, and potatoes
However short the trip was, Mr. Sasakawa received an enthusiastic welcome at each of the sites he visited and he spoke to the youth and children about the history of SAA's history to eradicate hunger in Africa since the famine of 1984 in Ethiopia.
Mr. Sasakawa talked to SAA staff, extension agents, and farmers. One of the most memorable words from him was, "Let's all work together to share SAA's practices beyond the borders of the villages or regions to the rest of the country."
SAA Publications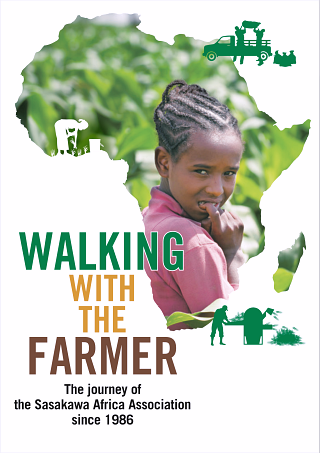 Electronic version of SAA history book, "Walking with the Farmer"is available here.