Deputy Country Director of SAA Nigeria will speak at the side event organized by the MAFF at COP27
November.10.2022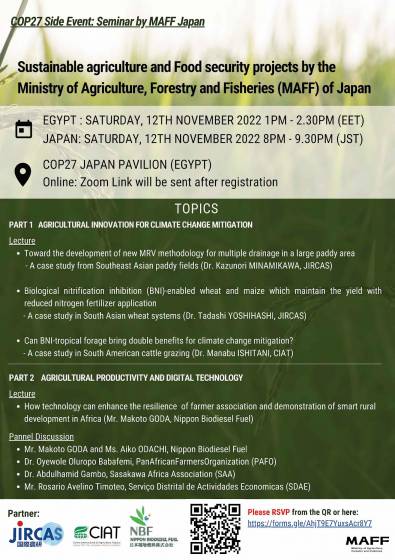 Dr. Gambo Abdulhamid, Deputy Country Director of SAA-Nigeria, will speak at COP27 online side event held by the Ministry of Agriculture, Forestry and Fisheries (MAFF) "Sustainable agriculture and Food security projects by MAFF of Japan" on 12 November 2022.

■ Outline of the Side-event
Date & Time:November 12 (Sat), 2022 )20:00~21:30 (Japan time) / 13:00〜14:30 (Egypt time)
Organizer:Ministry of Agriculture, Forestry and Fisheries (MAFF)
Venue:COP27 Japan Pavilion (Egypt)
Format:Simultaneous online session(Zoom)
Online Registration:https://forms.gle/AhjT9E7YuxsAcr8Y7
Participation fee:Free

■ Program
PART 1 AGRICULTURAL INNOVATION FOR CLIMATE CHANGE MITIGATION
Presentations:
Toward the development of new MRV methodology for multiple drainage in a large paddy area ー A case study from Southeast Asian paddy fields (Dr. Kazunori MINAMIKAWA, JIRCAS)

Biological nitrification inhibition (BNI)-enabled wheat and maize which maintain the yield with reduced nitrogen fertilizer application ー A case study in South Asian wheat systems (Dr. Tadashi YOSHIHASHI, JIRCAS)

Can BNI-tropical forage bring double benefits for climate change mitigation?ー A case study in South American cattle grazing (Dr. Manabu ISHITANI, CIAT)
PART 2 AGRICULTURAL PRODUCTIVITY AND DIGITAL TECHNOLOGY
Presentations:
How technology can enhance the resilience of farmer association and demonstration of smart rural development in Africa (Mr. Makoto GODA, Nippon Biodiesel Fuel)
Panel Discussion
・Mr. Makoto GODA and Ms. Aiko ODACHI, Nippon Biodiesel Fuel
・Gambo Abdulhamid, Sasakawa Africa Association

■Registration:
http://copjapan.env.go.jp/cop/cop27/en/exhibition/details/maff/

■ For inquiries regarding this symposium, please contact
IC Net Limited
MAFF Symposium Secretariat
SideEvent_Secretariat@icnet.co.jp
SAA Publications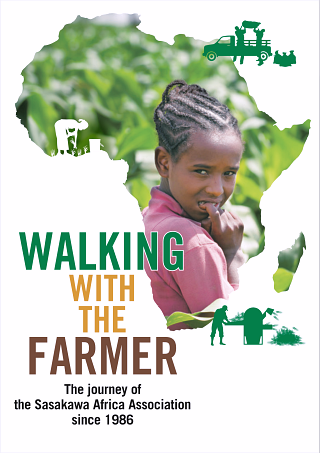 Electronic version of SAA history book, "Walking with the Farmer"is available here.