The MOU with Japan International Research Center for Agricultural Sciences (JIRCAS) on agricultural research and extension in Africa concluded
NEWS
May.19.2023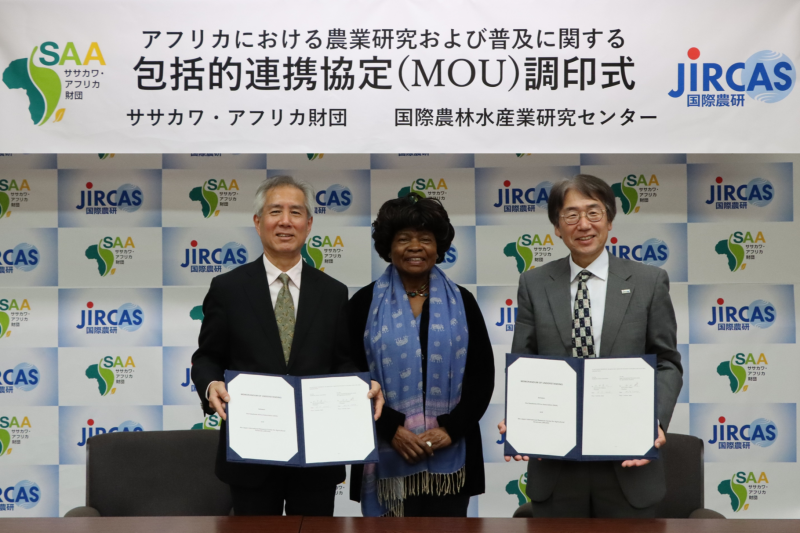 Signing of MOU (right: JIRCAS President Dr. Koyama, left: SAA President Dr. Kitanaka, center: SAA Chair Prof. Ruth Onyango) Place: JIRCAS, Tsukuba
On May 18, 2023, the Sasakawa Africa Association (SAA) and the Japan International Research Center for Agricultural Sciences (JIRCAS) signed a Memorandum of Understanding (MOU) for a comprehensive collaboration agreement on agricultural research and extension in Africa.

Africa has long been facing a food security crisis due to low agricultural productivity. In addition, negative impact of climate change and Healthy Soil and Food Security in Africa changing social conditions have made it particularly difficult for smallholder farmers, who account for about 70% of all farmers in Africa, to carry out sustainable and stable agricultural activities.

Under these circumstances, SAA has been promoting improved agricultural technologies to smallholder farmers for more than 35 years. Through its three strategic pillars, Regenerative Agriculture (RA), Nutrition-Oriented Agriculture, and Market-Oriented Agriculture, SAA contributes to improving food, nutrition, and income securities of people in Africa.
JIRCAS has been conducting experimental research to improve technologies related to agriculture, forestry, and fisheries in developing counties, and has developed technologies that contribute to soil fertility management and food production improvement in poor soils, taking into consideration local climate, soil, and socioeconomic conditions, through international joint research over many years.
At the 8th Tokyo International Conference on African Development (TICAD8) held last year, SAA and the JIRCAS jointly organized an official side event, "Healthy Soil for Food Security in Africa," and have discussed the possible future collaboration through discussions on RA that can be implemented by smallholder farmers in Africa.
Comprehensive cooperation between the two organizations based on this MOU is expected to contribute to the efficient dissemination of various scientifically evaluated agricultural technologies to smallholder farmers in Africa and to the resolution of issues related to food security in Africa.
The MOU was signed by JIRCAS President Dr. Osamu Koyama and SAA President Dr. Makoto Kitanaka at JIRCAS in Tsukuba City. Hon. Prof. Ruth Oniango, the Chair of SAA, was also present at the MOU signing ceremony, where she expressed her congratulations and expectations for future efforts.
SAA Publications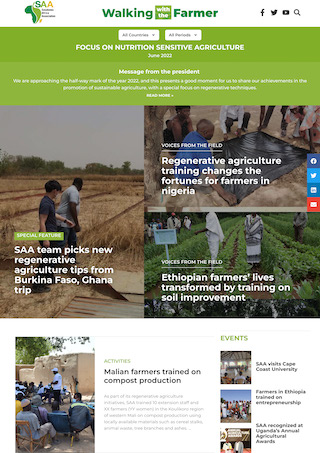 SAA publishes a bimonthly e-newsletter reporting on SAA activities.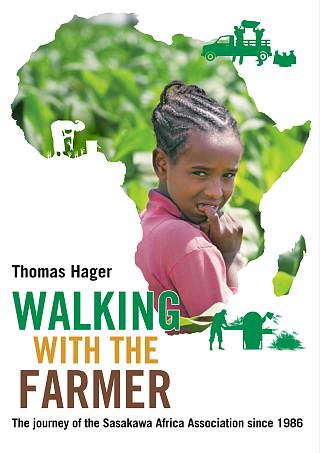 This book chronicles the history of SAA from its inception to the present.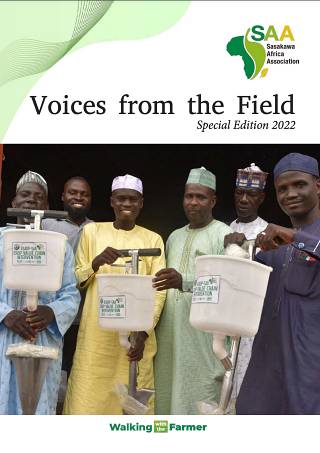 This is a special edition of the "Voices from the Field" articles.