SAA recognized at Uganda's first National Agricultural Extension Week
NEWS
June.1.2023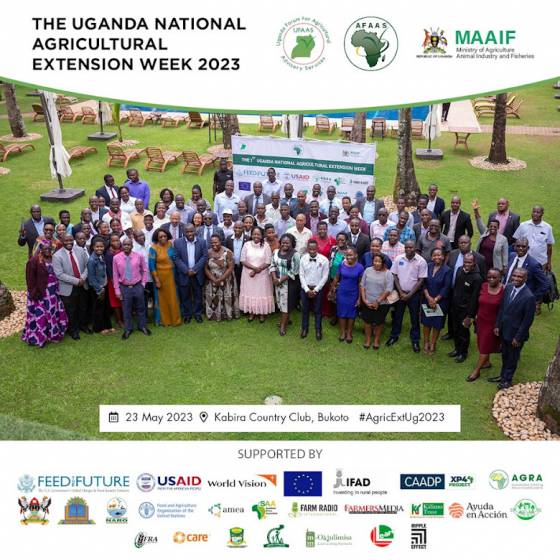 A cross section of Extension week Uganda participants
Sasakawa Africa Association-Uganda took part in the very first National Agricultural Extension Week (NAEW) that took place on 23 – 26 May 2023 at Kabira Country Hotel in Kampala, Uganda. Under the theme "Unveiling innovative pluralistic AEAS approaches: Actors' resilience and competitiveness for food security and commercialized agriculture" the extension week was organized by Uganda Forum for Agricultural Advisory Services (UFAAS) in conjunction with the Ministry of Agriculture, Animal Industry and Fisheries (MAAIF). The event was attended by individuals and organizations involved in Agricultural Extension and Advisory Services (AEAS) from the public and private sectors, as well as representatives from Non-Governmental Organizations (NGOs), Farmer Based Organizations, Community-Based Organizations, Research and Educational Institutions, and UFAAS Network Members.
Minister of Agriculture Hon Frank Tumwebaze, signing the SAA visitors book, at exhibition booth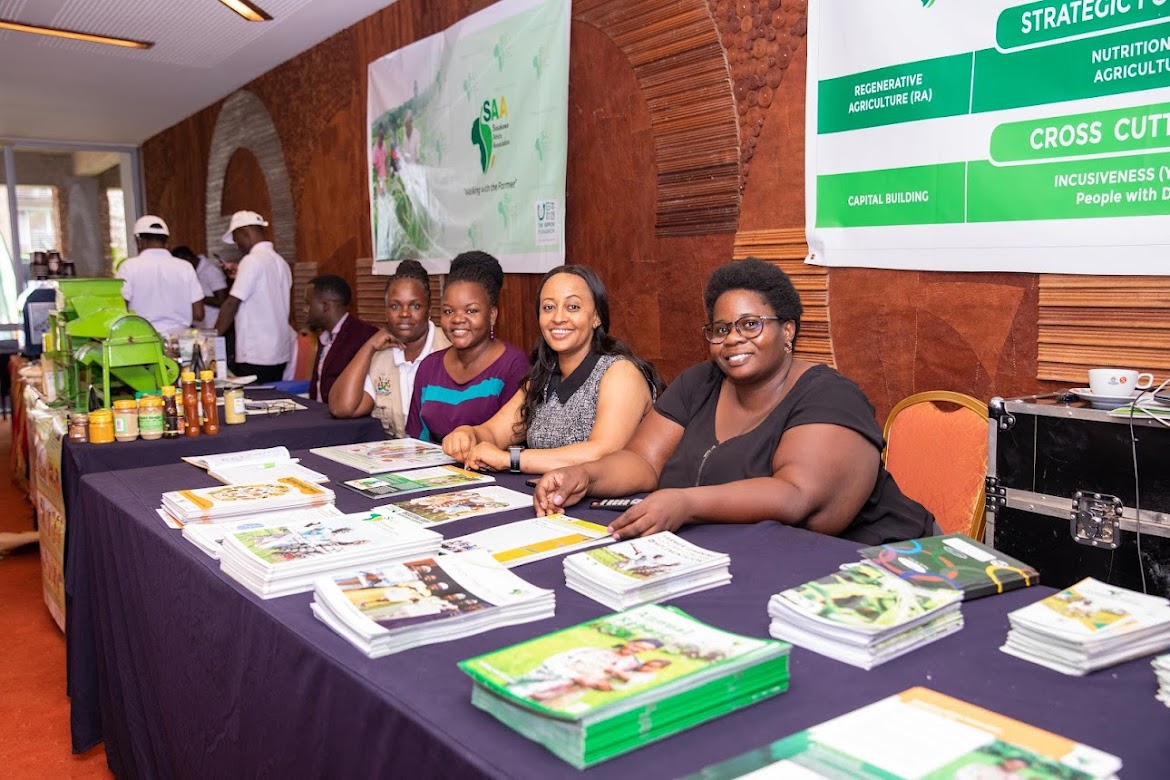 SAA staff at the SAA booth during the Uganda National Agriculture Extension Week
Ahead of the extension week, to explicitly address issues with the agriculture sector, SAA convened a press conference with a main focus on Women and youth engagement in the Agriculture Extension System. SAA also exhibited her work and a variety of technologies it has been promoting along the agricultural value chains at an exposition booth for an entire week attracting more than 150 visitors at the booth. Post-harvest handling prototypes, such as a motorized maize and soybean sheller, Multigrain cleaner, Hermetic storage methods, a strategic plan, Voices from the Field, FLP approach handbooks, Armyworm management booklets, SAA accomplishments 2022, and other documentation were some of the products on display.
Country director, Mr David Wozemba (2nd right) together with SAA staff addressing media on 22nd May 2023
At the climax of the extension week, Sasakawa Africa Association was awarded for her great contribution to agricultural extension and for consistently supporting UFAAS for the past years. The SAA Country Director, Mr. David Wozemba, received the award. He pledged SAA's continuous support and shared about the organization's strategic direction highlighting the key pillars of Regenerative Agriculture, Nutrition-sensitive Agriculture, and Market-oriented Agriculture. Additionally, he reaffirmed SAA's commitment to supporting agricultural extension service provision in the country. Farmers, extension workers, and community-based facilitators some of whom are directly working with SAA were awarded for the work they are doing in communities, the awardees included;
Ms. Vicky Ngorok, a farmer under Sasakawa and a member and chairperson of the Mothers Union Peace Association from Iriiri sub-county in Napak District, Karamoja area, earned an award in the category of "outstanding farmers who are members of a group". She received training from Sasakawa under the Agriculture and Market Support Program by World Food Program. She mentors other farmers in the production of maize, beans, sorghum, and orange sweet potatoes. She exhibits smallholder technology on her farm and encourages their use along the value chain. She is a supporter of healthy eating in families, organizes other farmers to sell in large quantities collectively, and is an example to Karamoja's smallholder farmers especially those who want to engage in farming as a business.
Another awardee was Mr. Kitayimbwa Ronald, who happens to be an SAA District Coordinator in Nakaseke Climate smart village, for his work in "promoting irrigation technology both fixed and mobile, which had previously been underutilized" in conjunction with the SAA and FAO, with a focus on reducing climate change affects, enabling farmers growing high-value crops like vegetables, coffee, pastures build resilience and adaptation.
Under the Innovations in Agriculture category, Mr. Munyegera Godfrey, a fabricator trained by SAA from Mayuge district was awarded for his "contribution towards skilling youth in and out of his district, creating jobs through the technologies he fabricates and the training he conducts". He fabricates production and post-harvest handling equipment. He has been able to build skills outside Uganda i.e. Mali.
Ms. Maureen Tuhimbise, a Community-Based Facilitator from the Mbaare sub-county, Isingiro district also won an award for a project she promotes with the Sasakawa Africa Association to revive traditional food crops that are still nutritious but have fallen into disuse, particularly millet. Maureen continues to promote Millet seed multiplication
During extension week, Mr. Dennis Tibenkana, a Sasakawa Uganda Youth Business Clinic Award winner, took part in a panel discussion regarding the key issues that young people in the Ugandan agricultural extension system face. He urged various stakeholders to fully incorporate youth into the food value chain and increase their access to extension programs.
Mr Dennis Tibenkana 2nd on the left during a panel discussion
In conclusion, the need to establish and strengthen partnerships for greater impact, rebrand extension to appeal to young people, and implement gender-responsive approaches, tools, and methodologies are some of the major themes that emerged during the extension week. The latter was emphasized by the Minister of Agriculture Hon Frank Tumwebaze who emphasized the significance of extension in the agricultural industry. Most speakers touched on the notion that agricultural extension acts as a launchpad for agricultural development and they all stressed the challenges of providing AEAS services in an effective and efficient manner. They asked that each actor contribute in their own way to the development of AEAS.
Press Statement_22 May 2023_Inclusive Agricultural Extension Services
SAA Publications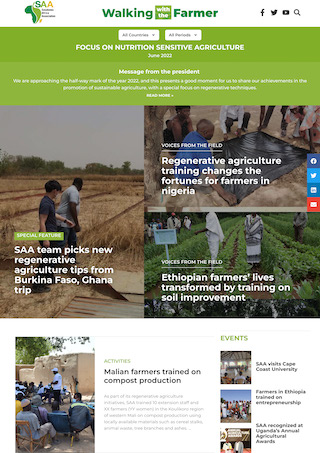 SAA publishes a bimonthly e-newsletter reporting on SAA activities.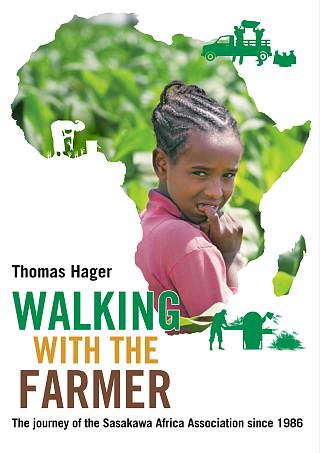 This book chronicles the history of SAA from its inception to the present.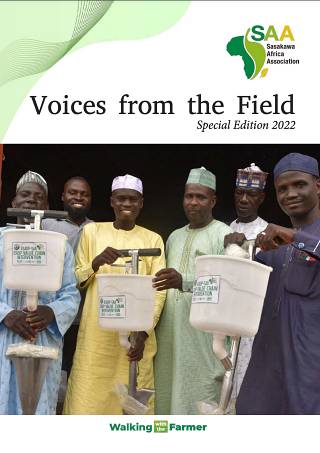 This is a special edition of the "Voices from the Field" articles.