On the Ground in Nasarawa: SAA's Commitment to Agricultural Transformation in Nigeria
NEWS
September.25.2023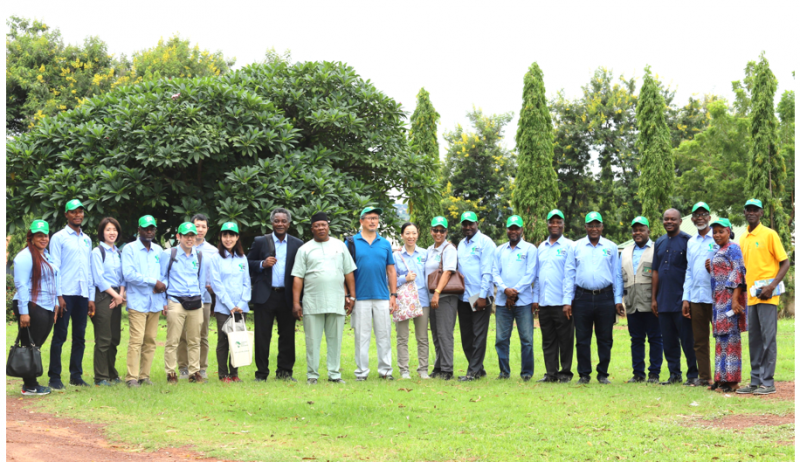 SAA officials in a group photo with Nasarawa Agricultural Development Program (NADP) staff during a courtesy call in Lafia, Nasarawa State, Nigeria.
Sasakawa Africa Association (SAA) continues its dedication to agricultural transformation in Nigeria, aiming to elevate the incomes of smallholder farmers and scaling up agricultural technologies and practices that enhance productivity. On 7 August, 2023, Dr Godwin Atser, Country Director of SAA-Nigeria, reaffirmed this pledge during a visit to the Nasarawa Agricultural Development Program (NADP), meeting with its Program Manager, Mr. Emmanuel Alahnana.
The visit, which included senior officials from SAA's Tokyo headquarters and the Strategic Partnerships Office in Ethiopia, centred on discussions about establishing two commodity aggregation canters for two rice cooperatives in Shabu and Assakio communities in Lafia Local Government Area.
These centres, part of the Project for Revitalization of Rice Cooperatives and Decarbonization of Rice Production funded by Japan's Ministry of Foreign Affairs (MoFA), aim to bolster the Apashi Woza and Dacewa Multi-Purpose Cooperative Societies.
Dr. Atser elaborated on the canters' features, which will include rice processing machines and modern facilities for agribusiness development. These centres aim to enhance market access, commodity aggregation, rice processing, and community savings through digital tools like Agroponto.
He added that by introducing decarbonization in rice cultivation practices, the Project would help to increase productivity, mitigate the impact of climate change, boost farmers' income, and provide access to extension services and training.
Mr Alahnana commended SAA, noting the significant value these centres will bring to Nasarawa's communities. He emphasized the state government's appreciation for SAA's partnership, especially given global climate challenges.
Traditional leaders in Nasarawa also expressed their gratitude for SAA's impactful initiatives. In Assakio, Chief Osula Inarigu lauded SAA's dedication to uplifting farmers. To honour SAA's contributions, Chief Inarigu gave the title "Sarkin Noma" (Chief Farmer) to SAA's General Technical Director.
In Shabu, another beneficiary community, SAA's teams are introducing a range of agricultural innovations. These include climate-resilient practices and market-oriented strategies to enhance food security. The community's Emir, His Royal Highness Alhaji Mahmouda U.B Bwallah II, expressed his gratitude and pledged full support for SAA's initiatives. In recognition of SAA's efforts, the Emir honoured SAA's program officer with the title of "Magajiyan Matan Noman Shabu" (Goodwill Ambassador of Shabu women farmers).
The SAA team's visit also included a stop in the Nunku Community, where Alhaji Ibrahim Adamu, the traditional head, praised SAA's impactful community development efforts. He highlighted the positive changes brought about by SAA's collaboration with diverse groups in the community, including women, youth and people with disabilities (PwDs).
The Country Director of SAA, Dr Godwin Atser, thanked the traditional rulers for the support given to SAA and promised that the organisation would continue to support the Nasarawa state's government to ensure the agricultural transformation is achieved.
Dr. Atser expressed his gratitude to the traditional leaders for their unwavering support. He assured them of SAA's continued commitment to aiding Nasarawa's agricultural transformation. The visit concluded with a two-day training session on Digital Warehouse management using the Agroponto mobile app, further solidifying SAA's dedication to Nasarawa's agricultural future.
For more information
Contact: Communication Officer, Sasakawa Africa Association- Nigeria
No.8 Kura Road, Off Magajin Rumfa Road, Nassarawa GRA PO Box 5190, Kano, Nigeria
+234-806-65763542
SAA Publications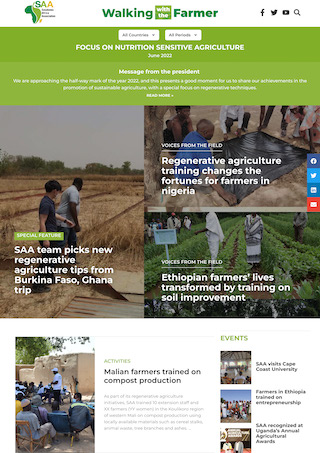 SAA publishes a bimonthly e-newsletter reporting on SAA activities.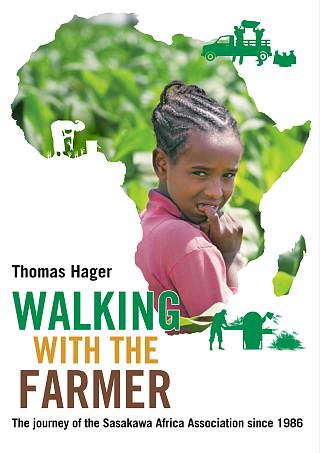 This book chronicles the history of SAA from its inception to the present.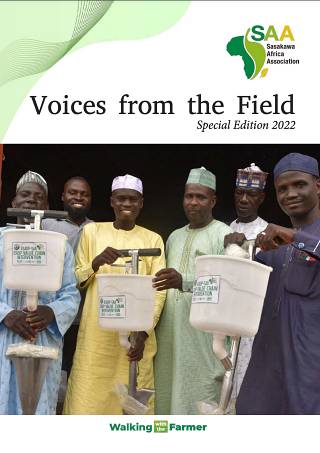 This is a special edition of the "Voices from the Field" articles.