[RECRUITING ANNOUNCEMENT] Resource Mobilization Manager Position
RECRUIT
October.13.2023
VACANCY ANNOUNCEMENT
Resource Mobilization Manager Position
With its headquarters in Tokyo, Japan, a Strategic Partnership Office (SPO) in Addis Ababa, Ethiopia, and country offices in Ethiopia, Mali, Nigeria, and Uganda, the Sasakawa Africa Association (SAA) is an International non-governmental organization. SAA is committed to assisting Africa in establishing robust and long-lasting food systems, a goal that emphasizes "Africa feeding Africa." SAA develops and implements practical and cutting-edge agricultural extension and advisory service delivery and capacity-building programs for frontline extension staff and farmers in Africa in close collaboration with national agricultural research and extension services, international agricultural research institutes, the private sector, NGOs, universities, CBOs, farmer associations, and donor agencies. In addition to Tanzania, Malawi, Mozambique, Benin, Ghana, Sierra Leone, and Burkina Faso, where the SAA also develops the talents and skills of national extension staff and youth in collaboration with Agricultural Universities and Colleges, the SAA offers programs with a primary intervention focus in Ethiopia, Nigeria, Mali, and Uganda. According to the SAA's current Strategic Plan (2021–2025), which can be found at www.saa-safe.org/strategy, the organization wants to boost farmers' incomes, food security, and nutritional status by promoting market-oriented, resilient, sustainable, and regenerative agriculture as well as nutrition-sensitive agricultural innovations and strengthening the capacity of Extension agents and farmers. Please visit the SAA website at www.saa-safe.org for further details.
SAA is looking for a Resource Mobilization Manager to help manage, maintain, and grow the contributions received from resource partners and donors to support the sustainability of the Organization's activities. He or she will participate in and oversee the mobilization of SAA's resource partners, create solid partnerships, and contribute to project management while working closely with SAA technical teams. He or she will cooperate and work with the teams at SAA HQ, the SPO team, and the Country Office teams.
Position Responsibilities:
The Resource Mobilization Manager's duties will include, but not be limited to:
Tracking trends and developments that have an impact on markets, agriculture, food, and nutrition; and Representing SAA at meetings with stakes related to SAA's mission.
Investigate cutting-edge strategies for resource mobilization by finding and pursuing fresh leads, securing fresh revenue sources, and assisting in the conclusion of partnerships with resource partners and other pertinent parties.
Develop and maintain strong relationships with resource and project partners, including grantee organizations, Universities, government agencies, and other pertinent institutions, in order to promote SAA's mission.
Identify funding opportunities and calls and coordinate the development of proposals across all SAA.
Create and compile project, grant, partnership, and consultancy service agreements in accordance with SAA and donor requirements, guidelines, and industry best practices.
Regularly communicate with grantees, project partners, and donors to ensure deliverables are met.
Manage the workflows for project contracts, proposal reviews, approvals, disbursement payments, reports, and close-outs.
Coordinating all project/grant contracts throughout their lifecycles in collaboration with the HQ and Country Offices and ensuring thorough due diligence, including tracking, timeliness, and accuracy of all technical and financial data, budgets, etc.
Facilitate/participate in mentoring and capacity-building activities for SAA staff members in the areas of proposal preparation, project management, contracting, and technical/financial reporting, including managing donor communications for projects.
Ensure internal alignment with SAA's strategic areas and priorities by communicating country/regional priorities.
Support communication activities to enhance partnership with other organizations
Competencies:
Management expertise or experience
Experiences in proposal writing and donor funding for agriculture, familiarity with the donor environment, cross-cultural competency, understanding of African governments, and geographic familiarity with the continent.
Proven expertise in and enthusiasm for African agriculture research and development
Proven expertise in creating institutional and policy frameworks as well as legal arrangements, such as Memorandums of Understanding (MoU).
Self-driven, independent person with extensive project management expertise in agriculture.
A proven track record of effective team coordination, first-rate interpersonal abilities, and demonstrated success in building, inspiring, and managing diverse teams of skilled professionals.
Outstanding English writing and editing abilities, as well as the capacity to handle confidential and private information in a discreet manner.
Show that you're willing to work in different places.
The capacity to handle partners and donors while possessing good organizational abilities.
Technical Knowledge/Exploration
At least ten years of expertise in agriculture-related business development or agricultural research and development, ideally in developing nations, with a minimum of five or more years of experience in resource mobilization, including preparing and reporting grant proposals, for a nonprofit organization working abroad, ideally in Africa.
A high level of self-discipline, capacity to multitask, and function well under pressure.
Excellent writing and oral English communication skills (knowledge of French is an asset);
Familiarity with the management of donor-funded development projects, including contract management, and the capacity to work independently in a multidisciplinary and multicultural workplace.
Educational Qualifications:
A postgraduate degree (MSc or Ph.D.) in agricultural science's (Agronomy, Horticulture, Agriculture Economics, Agriculture Extension) or a related field is required of the candidate.
Duty Station:
The position's holder will be stationed in Addis Ababa, Ethiopia, at the SAA Strategic Partnership Office.
Application requirements:
Applications must be submitted by email and include a current CV/resume, the names and contact information of three professional references, and a cover letter outlining your qualifications for the position and why you are interested in it. Please be aware that only those who have been shortlisted will be contacted. The application deadline is November 15, 2023. Send applications to saa-recruit@saa-safe.org.
NOTE: SAA provides a competitive salary package and promotes a multicultural workplace that supports gender parity, teamwork, and respect for diversity. Young candidates and Women are especially encouraged to apply.
SAA Publications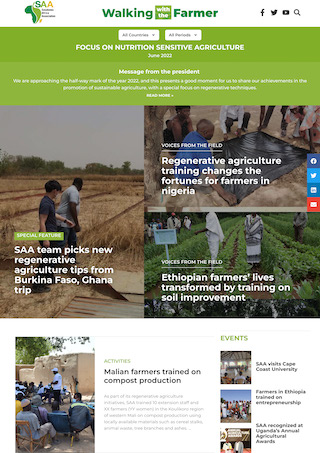 SAA publishes a bimonthly e-newsletter reporting on SAA activities.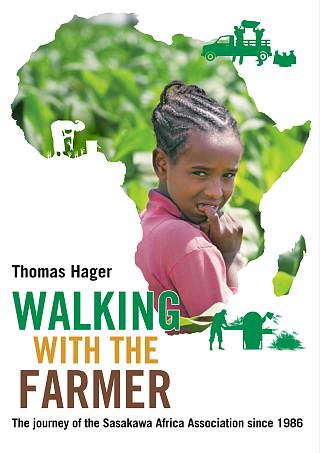 This book chronicles the history of SAA from its inception to the present.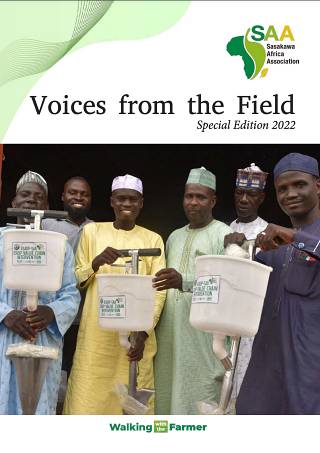 This is a special edition of the "Voices from the Field" articles.