Launch of mobile Training Unit and Soil Testing Laboratory
February.5.2014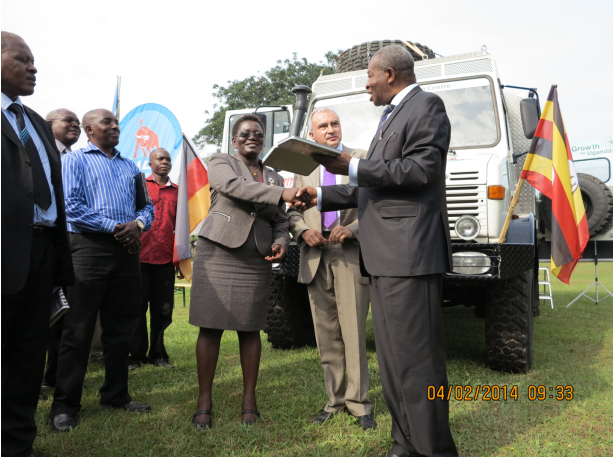 K+S KALI GmbH with Headquarter in Kassel, Germany, one of the leading Potassium Mining companies in the world and provider of specialties and mainstreamed fertilizers has reached a new step in its human aid project in Uganda. Mr. Johann Peter Bauza, Head of Africa Projects, has today handed over a Mobile Agriculture Farmer's Training Unit with a soil laboratory on board to the ministry of Agriculture, Animal Industry and Fisheries and Sasakawa Global 2000.
The mobile training unit is to be used by Sasakawa Global 2000 in disseminating agricultural technologies and testing soils.
Sasakawa Global 2000 established a partnership with K+S KALI GmbH, Germany, through the "Growth for Uganda" project to improve agricultural productivity, self-sufficiency and incomes of small holder farmers in Uganda through improved farming practices, proper post-harvest handling and improved market access.
K+S KALI GmbH is piloting the Growth for Uganda project in Dokolo and Apac Districts of Northern Uganda to increase agricultural production through popularizing the use of fertilizers by farmers.
The mobile farmer training centre innovation helps small holder farmers to improve their livelihoods through increased soil fertility and productivity, due to site-specific fertilisation recommendations based on the soil tests.
The soil laboratory is capable of measuring the most important nutrients in the soil accurately. When air dried samples are submitted it takes about an hour to get the results. The lab is equipped with a water purifier for the lab water and a spectrophotometer for measuring the soil nutrients.
Deputy Country Director, SASAKAWA-GLOBAL 2000 Kayaayo Battson.R. Emmanuel says that agricultural production in Uganda has been declining mostly because of low adoption of improved seed and improved land management practices, such as, the use of fertilizers and he is happy that with the mobile training unit and soil Laboratory more farmers will be reached.
SAA Publications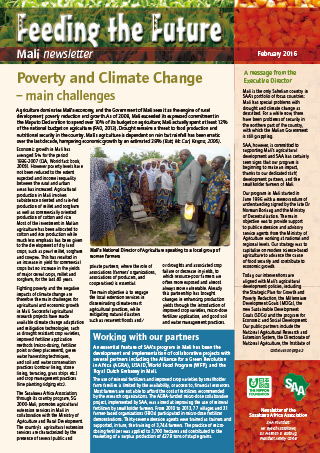 Electronic versions of Feeding the Future are available here.
To be kept informed of Feeding the Future updates and news via e-mail or to order printed copies, please use our contact form here.