TAKE IT TO THE FARMER – CENTENARY OF THE BIRTH OF DR NORMAN BORLAUG
April.10.2014

TAKE IT TO THE FARMER – CENTENARY OF THE BIRTH OF DR NORMAN BORLAUG
Uganda will be hosting a series of events in July this year, during the National Agricultural and Trade Show in Jinja, to commemorate the 100th anniversary of the birth of Dr Norman E Borlaug, the Nobel Laureate, who was President of the Sasakawa Africa Association (SAA) until his death in 2009. Dr Borlaug was a champion of Africa's small-scale farmers and a fighter against hunger. The events are being organised by the Ministry of Agriculture, Animal Industry and Fisheries (MAAIF), Makerere University, the Uganda National Farmers' Federation (UNFFE), and SAA.
SAA has been working in Uganda since 1996, with small-scale farmers and the Government's extension services, to increase yields and improve rural livelihoods. Indeed, Uganda is now one of four focus countries targeted by SAA to achieve a potential "green revolution" in Africa – the others being Ethiopia, Mali and Nigeria.
"The emphasis put by the Government of Uganda on the importance of agriculture is enormously encouraging," comments SAA's chairperson, Professor Ruth Oniang'o. "It is appropriate that this important anniversary is being celebrated in Uganda".
Dr Borlaug was one of the founders of SAA/Sasakawa-Global 2000 in 1986, with former US President Jimmy Carter and Japanese philanthropist, Ryoichi Sasakawa. His last words before he died were an appeal to "Take it to the farmer". These words will be the overall theme of the commemoration, in Uganda, of his life.
INSPIRATION FOR EVENTS
"They will also be the inspiration for the events we are organising around the commemoration," says Ruth Oniang'o. "SAA is now reaching out to marginalised farmers underserved by extension – such as women farmers – while promoting employment opportunities for the youth. We strongly believe that boosting agriculture will help eradicate poverty – a theme which local media organisations have taken up. Incentivising the youth is critical for Uganda and other African countries.
"Dr Borlaug believed in young people as future farmers and as advocates against hunger", she adds.
Central to the commemorative events will be competitions – for farmers (women, the youth and people with disabilities) as well as an essay competition for secondary schools and tertiary institutions. These competitions will cover the 20 districts across the country where SAA operates. They will stress the opportunities offered by agriculture. The winners will be transported to Jinja for the prize-giving ceremony at the show on 11 July. Prizes will include the latest Japanese technology, consisting of solar panel kits for charging mobile telephones.
Schools in the Jinja area will be asked to perform drama and dance – also as competition – in honour of the life of Dr Borlaug; they will also engage in debates on the importance of agriculture. These events, too, will take place during the show.
COMMEMORATIVE PROGRAMME
A main event of the commemorative programme will be a two day symposium in Jinja, with senior Ugandan Government officials, on the enduring results of the Borlaug legacy for Uganda and Africa. Overseas delegates will include Yohei Sasakawa, Chairman of The Nippon Foundation, which has funded SAA projects since its inception, and members of Dr Borlaug's family.
Before leaving Kampala for Jinja, the delegates will participate in a symposium at Makerere University with the Sasakawa Africa Fund for Extension Education (SAFE), which recently celebrated 20 years of extension education in Africa at ceremonies in Ghana. The symposium will cover 'the relevance of universities in national food security and agricultural transformation in Uganda'.
A special national organising committee has been established in Kampala to plan these events, led by former agriculture minister Victoria Sekitoleko and including representatives of the MAAIF, Makerere University, the UNFFE, SAA and SAFE.
SAA Publications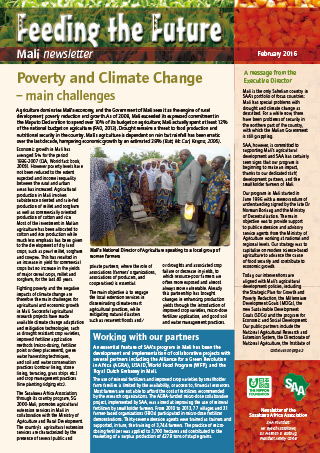 Electronic versions of Feeding the Future are available here.
To be kept informed of Feeding the Future updates and news via e-mail or to order printed copies, please use our contact form here.