" Why don't you join Sasakawa?" The Story of the Nyarakot Group
Uganda
February.13.2019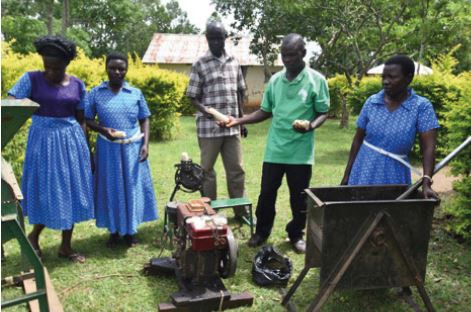 Chairperson Otwani Terensio (middle), Hellen Epuruge (far right) and other members of the Nyarakot Group showcasing their machines.
The Nyarakot Farmer Field School 1 is situated in Asinge C of the Nyarakot parish, in Tororo District, Uganda. It consists of 30 members, 18 of whom are women, and its activities include rice, groundnut and maize production. Formed in 2012 and fully registered, it received an initial investment of 10,000,000 Ugandan shillings (USh) from SG 2000 Uganda under the Farmer Based Organizations (FBOs) project. They were able to pay back the loan within a year, and the profits from their farming business are now being reinvested in their activities.
Hellen Epuruge, a member of the group and mother of two young children, recently won the women's Best Business Plan Concept at the SG 2000 Uganda Agribusiness Clinic Awards for 2018.
Otwani Terensio, Chairperson of the Nyarakot group, explains their success: "We started with 12 members in our collective farming enterprise", he said. "We used to grow maize and groundnuts, but at that time we didn't have any technology. We just planted this local maize and plant anyhow. In the end,our maximum yield per acre was just three bags – and imagine that for all twelve members! We don't forget the times when we were eating poorly, let alone thinking of taking up farming as business.
"All the members of the group have now taken up farming as a business. We have bought our own motorized maize sheller, earning the association USh 3,000,000 per season on top of the manual ground nut sheller [provided by SG 2000] that is earning us USh 900,000 per season. Members are now able to pay school fees for their children, from primary education at boarding schools up to university. The community around us is changing, eager to copy and apply our methods. We appreciate SG 2000 Uganda for what it has done for us – and all it has been worth!"
"It all began with one trader's visit to our group, who changed the whole story when they said: "You people in Nyarakot, why don't you join Sasakawa? You will get training and it will enable you to increase your yield."
"That was when SG 2000 came into our lives. First they trained us at a One Stop Center as a group, suggesting that we adapt our farming methods, start using diammonium phosphate (DAP) and urea, and buy improved seeds. We also learned new planting techniques.
"We farmed as a group and increased our yield. Then,in the next meeting, Sasakawa took us to BAIDA (Bugiri Agri-business and Institutional Development Association) to follow a training course on postharvest handling and storage under the aBi[Agricultural Business Initiative] Trust project, which I attended as a village agent along with another member.
We didn't know how to dry grain yet; we had just been drying it in bare grass, resulting in our maize becoming dirty and spoiled. We got training on how to use tarpaulins, how to use shelling machines. We came back to the group and we practiced these methods. The next time we planted our maize, we dried it in tarpaulins after harvest and shelled it in the shelling machines, and the maize came in amazingly white. We sold that maize at USh 550 per kilo, compared to the USh 300 per kilo the previous yield, obviously because of the quality. From that we said: "Eh, it is God who brought Sasakawa to Uganda."
SAA Publications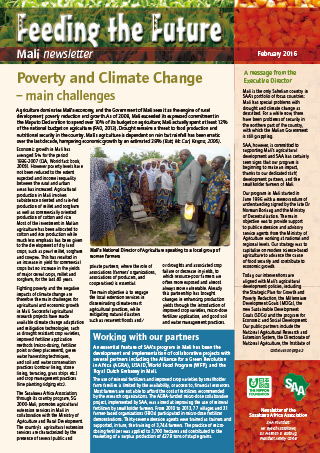 Electronic versions of Feeding the Future are available here.
To be kept informed of Feeding the Future updates and news via e-mail or to order printed copies, please use our contact form here.