" Without SG 2000 intervention, we would have been battling with abject poverty"
Nigeria
May.7.2019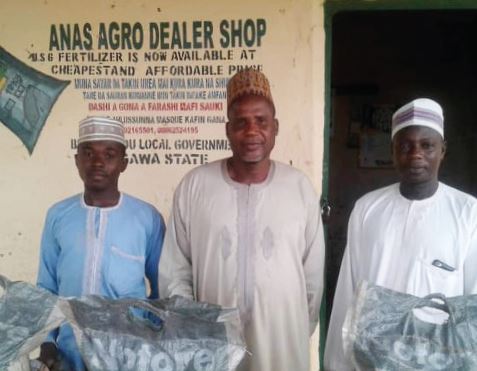 Alhaji Abdu Gana (center), chairman of the Kafin Gana Farmers' Cooperative.
The Story of the Kafin Gana Farmers' Cooperative
The Kafin Gana Farmers' Cooperative, in Jigawa, northwestern Nigeria, began life as a rotating savings and credit association (ROSCA) in January, 2000. At that time, the cooperative had 10 members, but by 2005 this had increased to 25, including 15 men and 10 women. In its early years the group struggled to invest effectively in profitable enterprises, explains Alhaji Abdu Gana, the group's chairman. "For over 15 years, there was no improvement at all in our livelihood, and most members could not afford three meals a day. In fact, most members could not afford to contribute the stipulated weekly amount due to poverty. There was poor leadership in the group and we all lacked good knowledge of good agronomic practices [GAP], group dynamics and agribusiness management.The truth is,75% of the members of the Kafin Gana community were living in abject poverty, with most of our children attending Quranic schools only."
Attempts at making the group viable proved to be of no avail, according to Alhaji Abdu Gana, and the SG 2000 intervention in 2016 came at just the right time. "We were trained on GAP, group dynamics and agribusiness management by an extension agent and Commodity Association Trader [CAT] posted to our community by SAA/JARDA. With the help of Mr Sadiku Abdu, we reorganized the group and elected new leaders in 2016, and registered the group as a legal entity on 14th December, 2018," said Alhaji Abdu.
At the start of the project, each member contributed an initial fund of ₦10,000 ($28), making a combined total of ₦25,000 ($70). By December 2018, this figure had risen to ₦2,245,000 ($6,240) due to the reinvestment of funds into profitable businesses, and sustainable activities such as fattening ruminants, buying and storing farm produce, service provision, and applying interest on loans. "Based on the training received from SG 2000, we started giving out loans to members with a 10% interest rate. In 2018, 110 non-members benefited from our loan scheme and no defaulter recorded. In 2017, the group bought six work bulls and three ox-drawn ploughs, which we used for service provision to members and non-members of Kafin Gana community, as there is no single tractor in the community up to date. The group also procured a rice mill in 2018 for service provision in the community. Members of the village no longer trek long distances to mill rice and all the female members of the group are into rice processing", Alhaji Abdu explains.
In 2015, only six group members were living in concrete houses. As of March 2018, 17 members were able to build concrete houses due to the increase in members' farm sizes and the results of the SG 2000 intervention. Alhaji Abdu also announces that four female members of the group now own deep freezers and are able to sell soft drinks, yoghurt, Zobo (a locally processed drink), and bottled and sachet water with a significant profit.
The secretary of the group, Mallam Yahya Kafin Gana, sums up the difference that SG 2000 has made to the group in the last three years."Without SG 2000 intervention, we would have been battling with abject poverty in this group, and the community as a whole."
SAA Publications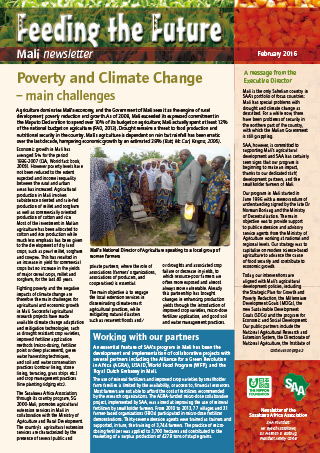 Electronic versions of Feeding the Future are available here.
To be kept informed of Feeding the Future updates and news via e-mail or to order printed copies, please use our contact form here.