From Bankruptcy to a Lucrative Business
Ethiopia
May.29.2020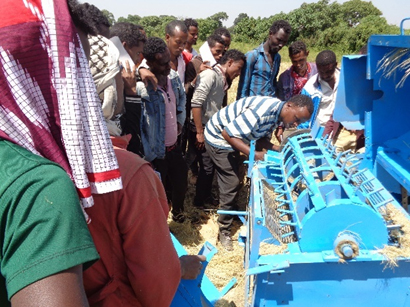 Furi Hirpo showcases one of his multi-crop threshers to a group of smallholder farmers in the Oromia Region of Ethiopia
Having gone bankrupt in his previous business, Furi Hirpo, a smallholder farmer and father of three, decided to follow his brother's footsteps and turn to service provision. With an initial investment of 10,000 Birr ($340), Furi adopted a multi-crop thresher, promoted by SAA-SG 2000 Ethiopia, to use in Shashemene, in the Oromia Region of Ethiopia, and the surrounding communities.
SG 2000 Ethiopia regularly conducts demonstrations of different machineries through the Postharvest Handling and Agro-processing (PHAP) theme. Having attended one of the demonstrations, Furi observed how the multi-crop thresher operates, and was impressed by its ability to halve the winnowing time of Teff compared to traditional machineries owned by the majority of service providers.
SG 2000 Ethiopia was able to assist Furi in acquiring his own thresher through credit, and also linked him with the local fabricator. According to Furi, this was a turning point in his life: "My living condition has improved drastically. I have already built two houses and a shed, and have been able to provide a better education for my children. I'm now looking into engaging in an animal fattening business. I'm sincerely appreciative of SG 2000 Ethiopia for their unreserved support."
Since taking his thresher to the field, Furi's business has boomed, which has enabled him pay back his loans and procure new threshers, as well as engage in maize shelling. What started as a small-scale service provision has now become a lucrative business. Furi is now the proud owner of four maize shellers and six multi-crop threshers – as well as a duty truck, which he is able to rent. Per annum, each of his threshers fetches him around 60,000 Birr ($2,000), with each maize sheller bringing in 50,000 Birr ($1,600). Renting the duty truck generates an additional 25,000 Birr ($840) every month, and Furi now hopes to secure a tractor for the upcoming crop production season.
But despite managing a flourishing business, Furi also notes the challenges facing smallholder farmers, such as the increasing cost of running engines: "The market is unpredictable, and the cost of maintaining machinery fluctuates. We request that government officials look into this issue and bring about a lasting solution."
SAA Publications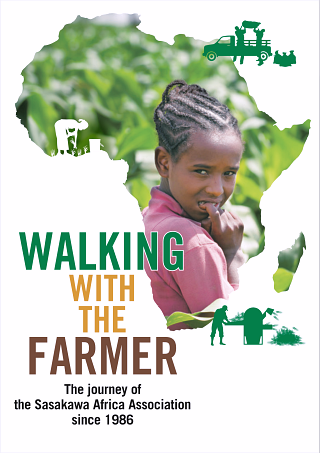 Electronic version of SAA history book, "Walking with the Farmer"is available here.