"Our hard work paid off" – The multipurpose cooperative society reaping the benefits of SAA training
Nigeria
January.31.2020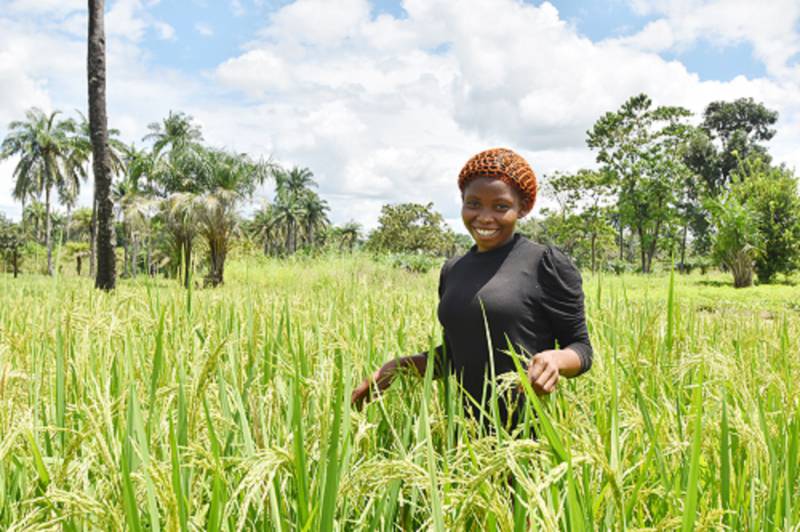 Janet Ushie, a member of the Rebuild Nigeria Multipurpose Cooperative Society.
The Rebuild Nigeria Multipurpose Cooperative Society is located in the Cross River State of Nigeria, and comprises 30 members. Despite Cross River State being one of the highest rice producing states in Nigeria, the local variety available in the market is limited. In 2019, SAA's office in Nigeria – Sasakawa Global 2000 Nigeria (SG 2000 Nigeria) – was introduced to the cooperative through the Extension Agent of the Bekwara Local Government, as part of the Cross River Agricultural Development Project (CRADP).

Janet Ushie, a high school graduate from Bekwara Local Government, is a hardworking member of the cooperative. Though Janet engaged in Cassava farming – a staple food in her community – she was convinced experimenting with other commercial crops would improve the revenue she generates from her plot. Training provided by SG 2000 Nigeria introduced farmers, including Janet, to new crops – including high performing rice varieties, endorsed by the local government extension bureau – as well as new planting methods, fertilizer application and weeding techniques.

"Our cassava production is low due to the traditional heap farming system we've been practicing for years," Janet explains "SG 2000 Nigeria taught us that different varieties of crops, planted in the same heap, compete for resources in the soil, which results in low productivity. They also trained us on how to become successful in rice production. Among other important lessons, the training included fertilizer application techniques. We've never used fertilizer before, and I now understand its essential role.

"We've put a lot of effort in practicing what we have observed in the practical sessions, and our hard work paid off. We are expecting increased yield this season. Fellow farmers also visit our plots, and we tirelessly share the knowledge we have acquired.

SAA actively encourages women and youth to engage in farming as a way of improving their livelihoods, and as a business. Due to SG 2000 Nigeria's support, Janet can realise her dream of going back to school: "I'm confident that the revenue I generate from my rice plot will be enough to pay for school fees and stationaries. I'm really grateful to SG 2000 Nigeria as this wouldn't have been possible if it weren't for their intervention."
SAA Publications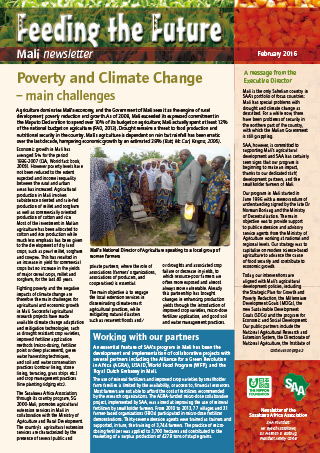 Electronic versions of Feeding the Future are available here.
To be kept informed of Feeding the Future updates and news via e-mail or to order printed copies, please use our contact form here.