【Special Interview】Introducing Dr. Amit Roy, SAA's New Chair
September.8.2023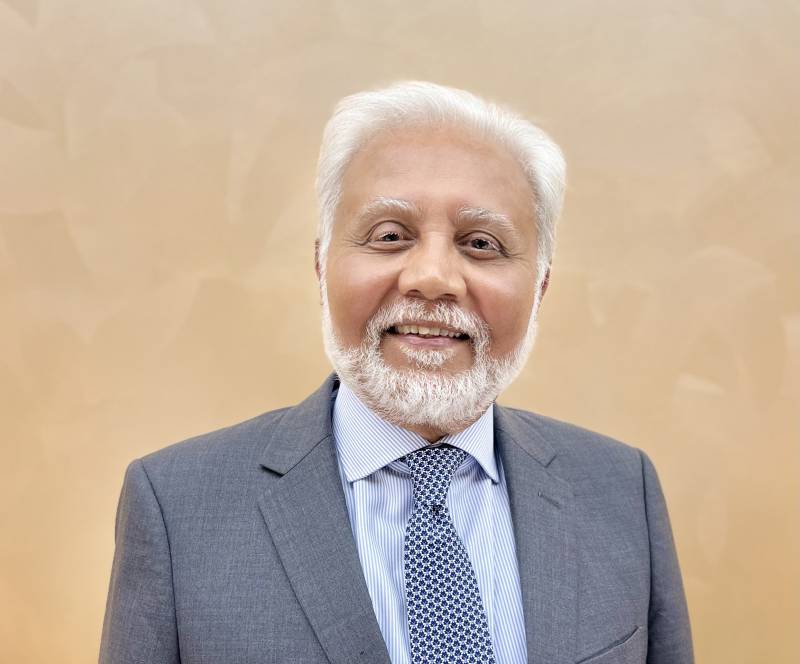 Born in the vibrant city of Calcutta and nurtured by a passion for agriculture, Dr. Amit Roy's journey is a blend of dedication, vision, and transformative leadership. As he assumes his new role at Sasakawa Africa Association (SAA), Dr. Roy reflects on his personal experiences, his profound connection with Dr. Norman Borlaug and SAA, and his perspectives on the evolving landscape of food systems in Africa.
From Cricket Pitches to Agricultural Fields
Q: Dr. Roy, could you tell us about your early life and upbringing?
Dr. Roy: I hail from Calcutta, India, and grew up in a family of six. My father served as a banker, while my mother was a dedicated homemaker. My childhood was quite typical, marked by playful activities and occasional mischief. I pursued my early education in Calcutta and later attended high school in Mumbai. I was really into Cricket, spent numerous hours on the field, and represented my high school. Cricket was a significant part of my life.
Q: Education seems to have played a pivotal role in your journey. Could you elaborate on that?
Dr. Roy: Indeed. My mother consistently highlighted the importance of education, often remarking, "Education is an asset that remains yours forever." While cricket was my passion, a crucial turning point was our loss in a state final. This made me introspect about my future, leading me to prioritize academics and join the Indian Institute of Technology (IIT). My tenure at IIT was a transformative phase, particularly with the backdrop of India's famine and Dr. Norman Borlaug's introduction of new wheat varieties. This experience propelled me to the United States for advanced studies, where I specialized in fertilizers, driven by my aspiration to tackle food security challenges.
Q: Your association with Africa and agriculture is quite deep-rooted. How did this association commence?
Dr. Roy: My initial engagement with Africa began in 1979 when I joined a project in Burkina Faso as a young engineer of the International Fertilizer Development Center (IFDC). The project's objective was to develop their phosphate deposits for agricultural use. My interactions with local experts, notably Martin Bikienga, who later ascended as Burkina Faso's Minister of Agriculture, reinforced my dedication to African agriculture.
Q: Could you shed light on your relationship with Dr. Borlaug and SAA?
Dr. Roy: I had the privilege of meeting Dr. Borlaug during one of his university visits in 1985. At the time, he was revered in India as the pioneer of the Green Revolution. My friend, Chris Dowswell, who previously worked at IFDC and later assisted Dr. Borlaug at CIMMYT, kept me updated about SAA's endeavors. Through Chris, I became familiar with SAA's impactful initiatives in Africa, leading me to participate in biennial symposiums across the continent. My professional journey, especially my role as IFDC's CEO in 1992, further intertwined my association with the agricultural community and SAA. So it was very natural and honor for me to accept the offer when my long-time dear friend and someone I deeply respect, Prof. Madam Ruth Oniang'o, the former Chair of the SAA, invited me to join the SAA Board. Agriculture forms the bedrock of numerous economies, especially in Africa. My journey accentuates the significance of dedication, collaboration, and innovation of those important organizations and players in the realm of agriculture.
Memories with Dr. Norman Borlaug
Q: What impression did Dr. Borlaug leave on you?
Dr. Roy: Dr. Borlaug was candid, impatient and had minimal tolerance for bureaucracy. His primary focus was always the farmer. I recall his disinterest in political discussions during an IFDC board meeting, showcasing his inclination towards direct benefits for the farmer. Our collaboration with Dr. Borlaug on fertilizer projects in nations like Uganda and Mozambique, coupled with our shared vision for food security, especially ensuring food and fertilizer accessibility, solidified our bond. As a Board member of IFDC, he gave constant encouragement when IFDC was implementing the Africa Fertilizer Summit on behalf of the Africa Union in 2006. Dr. Borlaug's philosophy was straightforward: "We must produce more to feed the masses." Our frequent interactions and strategy sessions were rooted in mutual respect and a shared vision for a food-secure future.
Q: How would you define effective leadership?
Dr. Roy: The essence of leadership has evolved over time. In today's context, a CEO resembles a sports team coach rather than a commander. Effective leadership revolves around building a high-performing team. It's about valuing individual autonomy, providing freedom, yet understanding when to exert authority.
Perspectives on Agricultural Development in Africa and SAA's Role
Q: Under your guidance, SAA has integrated Regenerative Agriculture (RA) as a core strategic pillar. How do you view this transition?
Dr. Roy: The term "Regenerative Agriculture" can sometimes be misinterpreted. In developed nations, it signifies enhancing soil health to minimize fertilizer dependency. However, in Africa, where soils are often depleted, external inputs like fertilizers are indispensable. The "Three Ps" - product, practice, and policy - must be harmonized to create an efficient approach for accelerating optimum usage of fertilizer and achieving the best outcomes.
Q: What are your insights on Africa's agricultural progression?
Dr. Roy: Africa's food productivity trajectory must outpace its population growth. With the population projected to double by 2050, the agricultural sector needs accelerated growth. A market-centric approach, bolstered by the African Continental Free Trade Area (AfCFTA) Agreement, is important, particularly for smallholder farmers.
Q: How can SAA champion Regenerative Agriculture in Africa?
Dr. Roy: SAA's strength is its deep-rooted connections with farmers, extension agents, and local administrations. It's imperative to transform raw data from the fields into actionable "Knowledge" and customize content delivery based on the target audience. The significance is the fact that identical information can be conveyed to both farmers and policymakers using different approaches.
SAA Publications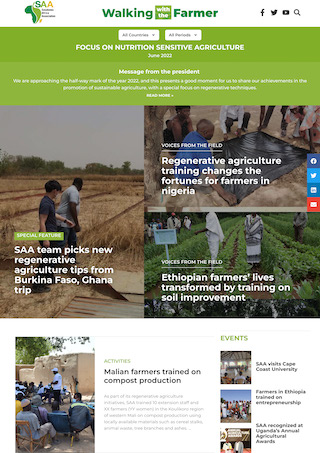 SAA publishes a bimonthly e-newsletter reporting on SAA activities.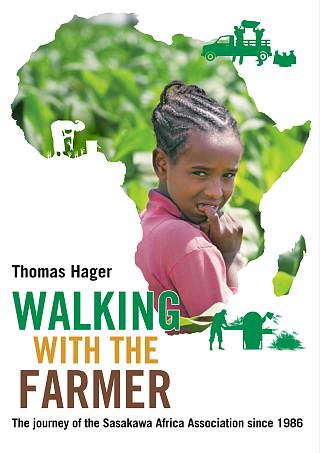 This book chronicles the history of SAA from its inception to the present.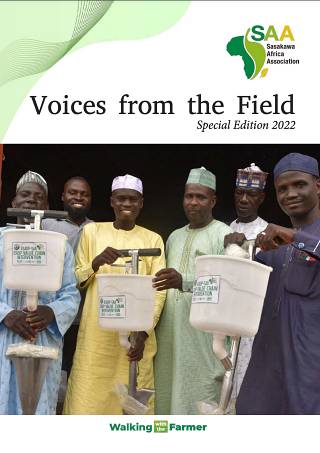 This is a special edition of the "Voices from the Field" articles.