"Implementing technologies has transformed the lives of me and my family"
Ethiopia
January.26.2017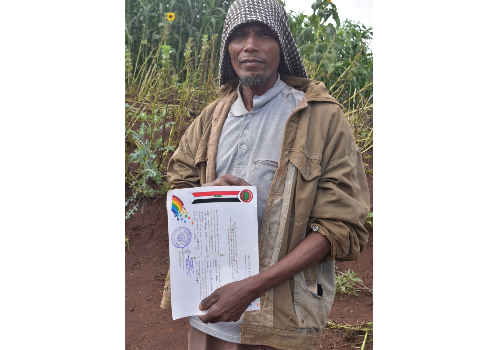 Farmer Bashir Lemma is from Lalonora Kebele of Begi Woreda in Western Wolega zone, Ethiopia. He is an award winning farmer and father of seven. Bashir said: "Since I began using farming technologies introduced by the Sasakawa Africa Association (SAA), my quality of life has improved. One year after adopting improved seed varieties and a line sowing method, I began harvesting significantly higher yields." Bashir left education 23 years ago at grade eight, aged 14. He remarked, "Thanks to the technologies brought in by SAA, in collaboration with local extension workers, my life has become easier. This gave me the opportunity to resume my education as a seventh grader in 2013. Now I am in grade 10 with my children, preparing to sit the national exam. I have also built a house. Put simply, implementing these technologies has transformed the lives of me and my family".
Misgana Mejor also lives in Lalonora Kebele. She chairs a group of 30 female members called "Women Assisted Demonstration" (WAD). She said: "It is a targeted program to benefit women. SAA introduced us to the scheme by holding a series of meetings involving the whole community, including our husbands, to create awareness of the opportunities for women to own their own plots of land on which to carry out the WAD program.
The program has been empowering, as now we are managing plots of land on our own. Local extension workers and SAA staff visit regularly to provide us with new technologies and techniques, such as line-sowing, use of compost and effective seed selection. By following this advice and listening to development workers, our group has benefited. Our production has increased to 16 or 17 quintals from two or three on the same plot of land because of the technologies".
Likewise, in Amba Kebele of Bambasi Woreda, Benishangul Gumuz regional state, women have benefited from the WAD program. Marema Begna is one benefi ciary who participated in this scheme. She said: "In my neighborhood we have improved our lives using agricultural technologies in accordance with the advice of the extension experts. I am able to send all my children to school; I built a new house last year. This year, since my maize farm is giving by far a better yield, I am expecting to sell my produce for more than 50,000 birr (more than 2000 USD)".
SAA Publications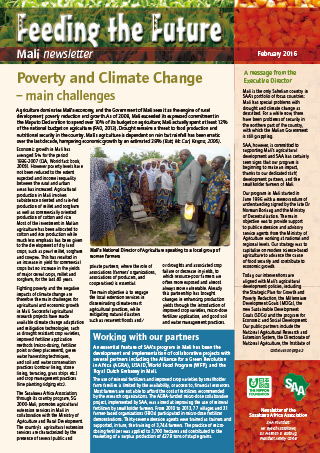 Electronic versions of Feeding the Future are available here.
To be kept informed of Feeding the Future updates and news via e-mail or to order printed copies, please use our contact form here.