Annual Report 2019 published
PUBLICATION
June.29.2020
Annual Report 2019 has been published in English and French.
In this report, key achievements on Thematic Areas, such as Crop Productivity Enhancement (CPE), Postharvest Handling and Agro-processing (PHAP), Business Development (BD), Human Resource Development (HRD), Cross-cutting issues and Monitoring, Evaluation, Reporting and Communications (MERC), were encapsulated. In addition, key achievements in SAA focus countries, Ethiopia, Mali, Nigeria and Uganda, were summarized.
Furthermore, the report of the Tokyo International Conference of African Development Ⅶ (TICAD7) held in Yokohama in August 2019 was published.
Annual Report 2019 is available from the link below.
Annual Report 2019 (English)
Annual Report 2019 (French)

SAA Publications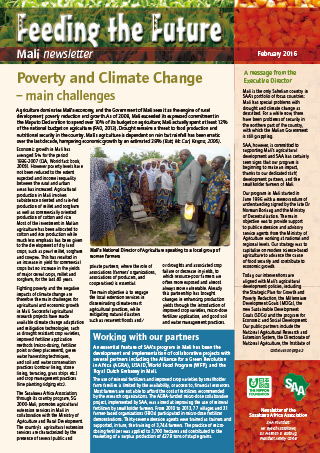 Electronic versions of Feeding the Future are available here.
To be kept informed of Feeding the Future updates and news via e-mail or to order printed copies, please use our contact form here.