Publications & Reports Search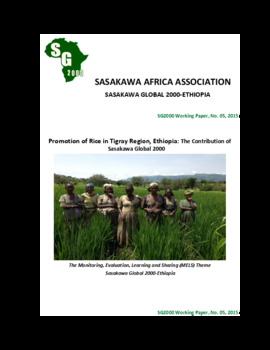 Publications & Reports / Reports
January.1.2016
This report assesses and describes the promotion and utilization of rice in Tigray Region, Ethiopia. It mainly highlights the contribution of Sasakawa Global 2000 in promoting rice in the region.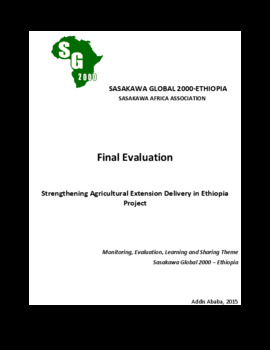 Publications & Reports / Reports
November.1.2015
The project "Strengthening Agricultural Extension Delivery in Ethiopia (SAEDE)",
funded by the Bill and Melinda Gates Foundation (BMGF), was implemented by Sasakawa
Global 2000 Ethiopia (SG2000-Ethiopia) in collaboration with Oxfam America (OA) and Ministry
of Agriculture (MoA). The project covered ten regions and twenty-two Woredas in the country,
aiming to improve food security and income of 215,000 farmers. The main objective of the
project was to improve the skills and ability of DAs and SMS' to deliver more diverse extension
services to smallholder farmers, with special focus on marginalized groups such as women,
agro-pastoralists, youth and very poor farmers. This evaluation intended to independently and
objectively evaluate the project with respect to its relevance, efficiency, effectiveness and
sustainability.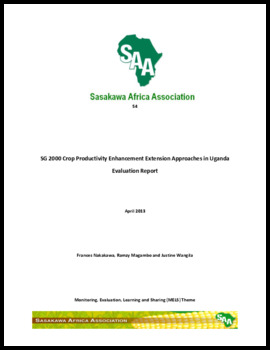 Publications & Reports / Reports
April.30.2013
The primary objective of this evaluation is to assess the agricultural extension approaches used by SG 2000 - Uganda, highlighting what works well, what does not and what can be improved to achieve CPE Theme objectives and enhance approaches. The evaluation assessed SG 2000 – Uganda crop extension approaches in relation to the national extension approaches based on farmer selection, training approaches, technology selection and targeting of farmers.
Publications & Reports / Recommended Books
Enough: Why the World's Poorest Starve in an Age of Plenty
June.1.2010
Roger Thurow and Scott Kilman, Public Affairs Publishing, 2009
For more than thirty years, humankind has known how to grow enough food to end chronic hunger worldwide. Yet in Africa, more than 9 million people every year die of hunger, malnutrition, and related diseases every year—most of them children. In this powerful investigative narrative, Wall Street Journal reporters Kilman & Thurow show exactly how, in the past few decades, Western policies conspired to keep Africa hungry and unable to feed itself. Enough is essential reading on a humanitarian issue of utmost urgency.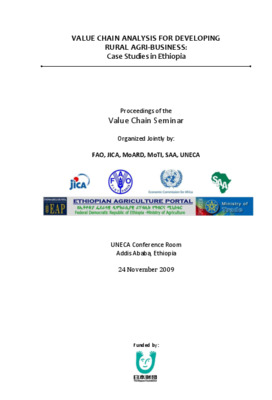 Publications & Reports / Other Publications
November.24.2009
This publication contains papers presented at the Seminar on Value Chain Analysis (VCA) which discussed issues how VCA was applied and how it can enhance the impact on the programs of the Government of Ethiopia, and the works of different development organizations in Ethiopia.
For copies, please contact Raitt Orr & Associates Ltd in London.
Raitt Orr & Associates Ltd.
The Africa Centre
38 King Street, Covent Garden, London WC2E 8JT, United Kingdom